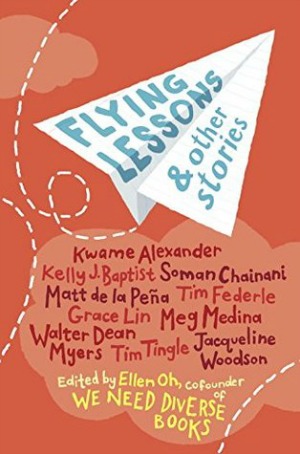 Ellen Oh, the co-founder of We Need Diverse Books, has edited a collection of short stories full of adventure, transitions, and challenges, along with young characters from a wide variety of backgrounds. Flying Lessons & Other Stories includes pieces written by some of the best of the best in children's literature today: Newbery winners Kwame Alexander and Matt de la Peña; National Book Award winner Jacqueline Woodson; New York Times bestselling authors Soman Chainani, Grace Lin, and Walter Dean Myers; Lambda Literary Award winner Tim Federle; Pura Belpré Award winner Meg Medina; American Indian Youth Literature Award winner Tim Tingle; and debut author Kelly J. Baptist.
This powerhouse of talent has produced an anthology that presents realistic and delightful young characters. Though they differ in their situations and tones, each story is a celebration of sorts. It could be a celebration of personal resolve, such as the boy who wakes at 4:30 every morning to go to a gym where a mean game of basketball is being played just to learn from some greats even he doesn't get any time on the floor himself, or the girl who feels a connection to the new girl in school and follows her instincts when she pulls her name in the class Secret Santa gift exchange, while others unabashedly celebrate their familial and cultural identities and traditions. Some more serious issues are interwoven in the narratives such as socioeconomic status, racial identity, and sexuality, but not in a weighty or didactic manner.
I may have been predisposed to especially enjoy Jacqueline Woodson's contribution, a story entitled "Main Street" merely because I am routinely knocked out by her succinct writing that always conveys strong emotion and character depth. Safe to say that I was not disappointed, but amazed once again, at how she creates such captivating tales in so few words. In this latest, friendship is the focus, a topic on which Woodson writes with beauty and insight, along with the recognition of the different treatment received by people of different races in a sleepy New England town. From a child's perspective, it all seems so simple– we all deserve respect and comfort.
My ten-year-old daughter has already seen this cover and squealed in delight at some of the names that are already familiar to her, and my nine-year-old son has expressed his curiosity, too. I'm excited to pass this book along to them, knowing that compassion and understanding are developed through repeated exposure to people from all backgrounds and cultures. Literature is one important way that we can provide these "windows" for our children, and this collection is a perfect addition to any child's library.