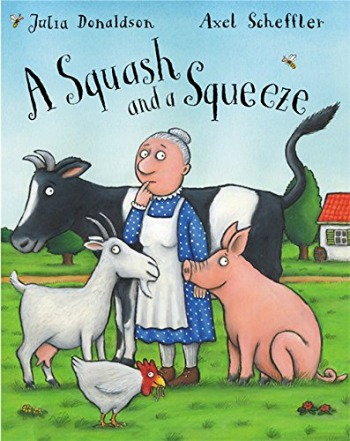 A familiar folktale first shared by author Julia Donaldson and illustrator Axel Scheffler in 1993, A Squash and a Squeeze has been reissued for the enjoyment of another generation of young readers. If those names ring a bell, you may be interested in knowing that this was the first picture book on which Donaldson and Scheffler joined forces, before going on to reach so many with their best-selling books The Gruffalo and Room on the Broom. 
In this rhyming delight of a story, a woman reaches out to a wise old man for help when she feels crowded in her little home. Calling her house "a squash and a squeeze," she finds the wise old man's first piece of advice to be curious, as he tells her to bring her hen inside. Well, of course, that hen wreaks some havoc what with her egg-laying and flapping around. When she asks the man again for advice, he counsels her to take in her goat, who immediately begins to chew on the curtains and the leg of the table.
You can see where this is going, right?
After a total of four animals, all seen in their big-eyed, cartoonish renditions on the book cover, create absolute chaos in her home, the wise old man offers her one last piece of advice that seems to solve her problems.
I adore sharing this folk tale with young children, because not only is it hilarious, but they often begin to see the old man's rationale quicker than some might predict. A little lesson in appreciating what we have can never hurt, especially when it's told in clever and rich language along with giggle-inducing illustrations, as it is here. This is a wonderful book to bring back to print, and I highly recommend it for a laugh-fest of a read-aloud experience.