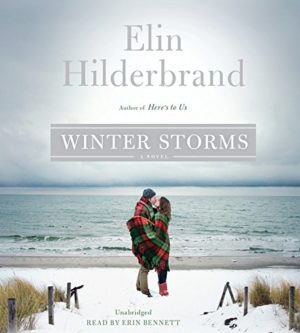 Winter Storms is the third book in Elin Hilderbrand's Winter series, wrapping up the loose ends left in book two, Winter Stroll, of Kelley and his family. Unlike the first two books, reviewed last year, Winter Storms takes place over the course of a year, with the culmination at Christmas-time on Nantucket.
We pick up with the Quinn clan a few months after the events of Winter Stroll. Ava still hasn't decided between her two beaus, Patrick is due to be released from jail and his wife Jennifer has developed a pill addiction, and Kevin is at loose ends in his own career now that his dad is back taking care of the inn. Mitzi has left George the Santa Claus and moved back home with Kelley to help run the inn, and matriarch and famous news anchor Margaret is getting ready to marry her boyfriend Drake.
Over the course of the novel, which is a little slower paced than the previous two, the Quinn children make strides in securing their futures. Ava makes a big decision about her career and her love life, and Kevin opens a successful business of his own, also finally proposing to Isabelle, with the wedding planned for Christmas Eve at the inn. But when a big snowstorm threatens the arrival of the guests, including Isabelle's family coming over from France, will the wedding even happen? And will Bart make it home safe from Afghanistan?
Some have complained about the easy resolution of some of the story lines, but I don't think fiction always has to be totally realistic. Ava does seem to have the perfect life, for who wouldn't want two handsome, successful men begging for her attention? Kevin's immediate success with his restaurant is a little hard to believe, as is Jennifer's ease in kicking the pill habit. But I enjoy reading about the Quinns and their lives, and am hopeful that there will be future books featuring the family.
Notes on the audiobooks:  Like the other two books in the series, Winter Storms is read by Erin Bennett, and is fairly short at approximately 6.5 hours on 6 CDs. It's an enjoyable conclusion to the series.