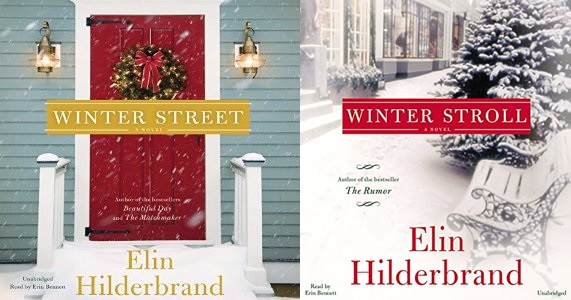 Hachette Audio is a recent addition to the wonderful publishers who provide us with books for review, and when a recent pitch included Winter Stroll, the second book in a trilogy by Elin Hilderbrand, I thought it sounded perfect for the holiday season. I also asked if they would send me Winter Street so I could listen to both books, and they were happy to do so.
Like Hilderbrand's previous books, Winter Street and Winter Stroll take place on Nantucket, but instead of during the summer, it's Christmas on the island. In Winter Street, we meet Kelley Quinn, father of four grown children and owner of the Winter Street Inn. Kelley's thrown for a loop when he walks in on his wife, Mitzi, in a precarious position with George, the man who's played Santa at the inn's annual holiday party for the last 12 years.
While Kelley struggles with his second marriage breaking up, his kids have their own problems. Patrick, the eldest, is in major financial trouble and could be facing jail time. Kevin is still not over being hurt by his first wife, a woman his family refers to as "the cautionary tale," but wants to do the right thing with Isabelle, the inn's housekeeper who he's fallen in love with. Ava is hurt that her boyfriend Nathaniel has left town on Christmas Eve without telling her, worried he's spending time with his ex and obsessing over his ignoring her texts and phone calls. And Bart, Kelley's only child with Mitzy, has not contacted any of the family since he left for Afghanistan after joining the Marines. Kelley also has to deal with his first wife, famous evening news anchor Margaret Quinn, appearing at the inn to help her family through their crises. The book ends somewhat abruptly, with a nice juicy cliffhanger, and there are lots of shots of whiskey along the way.
Winter Stroll picks up almost a year later, during the island's annual Christmas Stroll, when islanders and visitors alike descend upon the wharf to welcome Santa and spend a lot of money on local businesses, and the Kelley family is looking forward to baby Genevieve's christening. This book focuses a little more on the minor characters and almost everyone has to deal with ghosts from their pasts in one form or another. Patrick's wife Jennifer is trying to hold her family together with her husband now in prison for insider trading. Kevin and Isabelle's happiness is in danger when his ex returns to the island. Ava is finally happy with her new boyfriend, Scott, until Nathaniel tells her he wants her back. And Mitzi's grieving over Bart's still unknown whereabouts, which has affected her relationship with George.
The characters in this series are like any family – often too self-involved in their own problems, yet there for each other when it really counts. I also liked reading a Christmas book that's not all happiness and joy – families have real problems and not everyone loves the holiday season.
Winter Street and Winter Stroll are the first two books in a trilogy, and I look forward to the final installment, which I assume will be published in time for Christmas next year.
Notes on the audiobooks:  Both books are read by Erin Bennett, and are fairly short at approximately 7 hours on 6 CDs each. They are enjoyable to listen to and kept me guessing what would happen next in this crazy cast of characters.