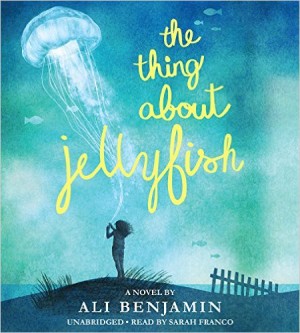 The Thing About Jellyfish by Ali Benjamin is on many "best of 2015" lists. It's also a National Book Award finalist. I'm a bit of a tough sell when it comes to hyped books, but I had been interested before, so I wanted to give it a listen.
It's kind of a grim topic. Suzy's friend Franny drowns the summer before 7th grade. Suzy can't believe she drowned, because she was always a strong swimmer. In order to make sense of it all, Suzy sets out to prove that she was stung by a highly poisonous Irukandji jellyfish.
It seems that a lot of upper middle grade novels, aimed at that 5th – 7th grade set, are dark in subject, but what I like about them is that there's a simplicity to the way a child handles grief, whether it's the death of a family member or friend, a parent's job loss or divorce, or other tragedies. They don't seem too maudlin, and any sadness I feel is usually a result of feeling sad for a child who is so misunderstand.
This is a novel about grief, but it's also about that difficult transition that occurred the year before, from elementary to middle school. Even as a 7th grader, Suzy is still an innocent. She's not interested in boys or fashion. As we learn from flashbacks, this was why she and Franny had actually grown apart over the last year.
The way the book is structured, navigating between past and present as well as including Suzy's hypotheses and information gathering from her jellyfish research is truly amazing. This is not the story that I expected at all. I don't want to give too much away, but there were plenty of character-driven surprises.
NOTES ON THE AUDIOBOOK
It is hard to do an audiobook that is from the POV of a child or teen. Sarah Franco did okay, but sounded a little too wide-eyed innocent. That said, it was an easy book to listen to. She differentiated voices well and also handled the scientific terms well.