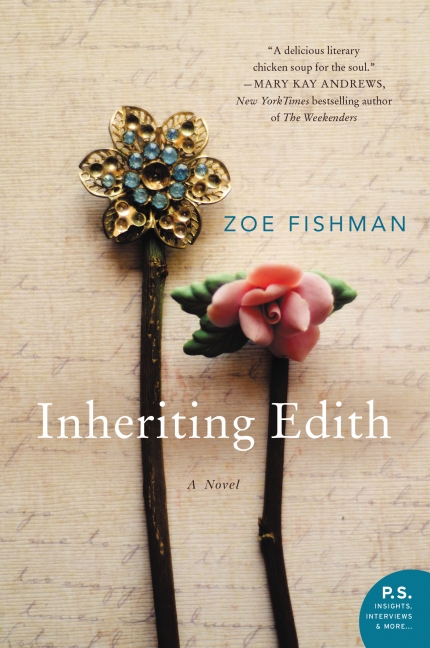 Maggie Sheets went to college and planned to write fiction, but somewhere along the way her plans changed. She made the decision to channel her love of cleaning into a career as a housekeeper, and she's a single mum to a 2 1/2 year old named Lucy. Inheriting Edith opens as she's leaving a lawyer's office in shock because a former client and friend has just left her a house and a lot of money. Oh, and in order to claim it, she has to take on the  care of the dead woman's mother, Edith, who has just been diagnosed with Alzheimer's.
Realizing that this is an opportunity too good to pass up, Maggie agrees. But she's mystified. Sure she was friends with Liza, but they had a falling out several years earlier and hadn't spoken in a long time. Liza was a brilliant author, but struggled with depression. Maggie packs up her apartment and child and heads to Sag Harbor. Edith greets her with dismay, since she's understandably less than thrilled to be included with the house, but the two gradually begin to inch past the other's defenses. Edith was a dancer in New York in her youth, and is still friends with the colorful Esther, another elderly former dancer. Esther is one of those friends who says it like it is, a colorful character in her bright clothes and excessive accessories. Edith is aware most of the time, but there are a few scary moments when she loses herself. Visits to a neurologist confirm that she will only get worse and, naturally, she resents this.
As Edith comes to grips with a past that will soon recede out of reach, Maggie finds herself doing the same. Although much younger, she still has secrets she's hiding, and things she hasn't dealt with. The two are good for each other, although it takes them a while to recognize this.
Inheriting Edith starts a little slowly, and I found the author's attempt at reproducing a toddler's dialogue annoying and distracting, but stick with it. Soon Lucy talks less and Maggie and Edith talk more, and the book draws you in. I ended up really enjoying the book, watching the relationship grow between the two, as both learn to reveal secrets to the other that they have been keeping a long time. I liked how the characters grew, and how the ending still contained the grit and reality of everyday life even though it was essentially happy.