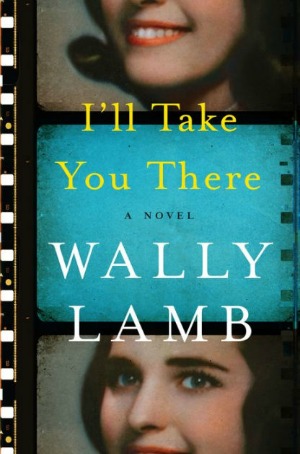 I've loved Wally Lamb's work since the beginning, and not just because he creates stories in a fictionalized version of the area of New England where I lived most of my childhood, but also for his ability to write characters with a depth many authors cannot accomplish. I've come to anticipate a serious tone and an emotional reading experience from his novels, so I have to admit to a bit of surprise by the end of his latest offering. I'll Take You There addresses some meaningful topics, but it does so with a more lighthearted tone and a bit of a fantastical plot twist.
A difference is apparent at first glance, with its obviously slimmer profile. Coming in around 250 pages, this is a departure from Lamb's previous, much longer novels. In fact, this is closest in length to his novella Wishin' and Hopin', (my 2009 review) which tells the story of ten-year-old Felix Funicello, a fifth-grader trying to get through the lead-up to the Christmas holiday in the early 1960s. With this newest novel, readers revisit Felix today, now divorced at 60. A film professor and scholar dedicated to sharing his passion with his weekly movie club held in an old vaudeville theater turned cinema.
Felix as narrator is friendly, a bit self-effacing, and extremely open and honest. He's incredibly likable, especially as we learn of him as a father through his phone conversations with his young adult daughter. He actively tries to understand her perspective, acknowledging generational differences but ultimately showing her respect even when he disagrees with her. This personality trait crosses over as Felix is confronted by a ghost in the theater one day, and this bit of magical realism propels the story backwards, for Felix is asked to revisit moments in his own past by stepping into film of chapters of his childhood. In these experiences, he sees many challenges and realities faced by women through new eyes, leading to a greater understanding of his own sister and other women connected to their lives.
It seemed to me that despite the serious topics addressed in this new novel, Lamb appears to have lightened his tone a bit, in both his protagonist's internal attitudes and the overall storytelling approach, which also may have contributed to the much shorter length. I appreciated the feminist theme, which Lamb has long embraced, especially in the attention he pays to his multi-faceted female characters. I've seen critics of Lamb's previous hefty novels complain that he is too wordy, but I'm definitely not of that crowd. If anything, I would have liked this new novel, with its unique twist and interesting characters from several generations, to have been fleshed out even more.