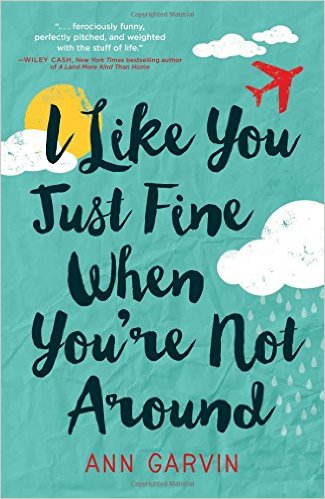 I reviewed Ann Garvin's book The Dog Year a couple of years ago. When I saw a Kindle daily deal on her newest novel I Like You Just Fine When You're Not Around, I snatched it up.
This is a great novel with strong female characters and, of course, a dog.
Tig is at a crossroads. She's overwhelmed by some circumstances in her life that are outside of her control. She's had to move her mother out of her home where she was trying to care for her into an assisted living memory care facility. Her long-term boyfriend and she haven't truly made a commitment, so the fact that he's taking a year-long sabbatical to Hawaii leaves her asking questions, mainly — should I stay or should I go? She quits her job as a counselor, but might have lost it after she blew up at the husband of a couple she was seeing during a counseling session. She and her sister haven't been close in ages, but when she shows up on her doorstep, pregnant, Tig has to try to put aside the block she's put up in dealing with issues of sibling rivalry and put her therapist hat on for herself.
The blow up results in a new job, which challenges her skill set and her view of herself and her abilities, at which she is surprisingly good. Her sister's arrival results in helping to care for a baby, in addition to the strain of caring for her mom in the nursing home.
Tig's kind of a mess, and when things come to a head, she focuses on one thing — her mother — even though she is also dealing with unresolved feelings about the way her mother has treated her.
I enjoyed this book for several reasons: the family drama with which all of us can probably relate, approached with just the right touch — not too emotionally, but real enough to feel the tension, a lovable man's best friend character, personal development achieved in the midst of having to put self second while caring for others, something I've had to do and many people face at some point in their lives.
I read this on my kindle, so I didn't realize it at the time, but it's a fairly short novel, which made me feel a sense of accomplishment, as I was coming out of somewhat of a reading slump.