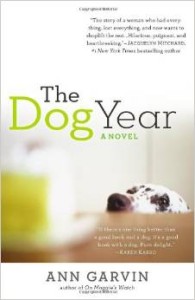 I just love a good novel featuring real, quirky, complex characters, and The Dog Year by Ann Garvin gave me that, plus upped the ante with puppy love.
Dr. Lucy Peterman is a good doctor, helping women with reconstructive breast surgery, but her personal life is a bit of a mess. After losing her husband and unborn baby in an accident the year before, she has retreated from life. All she has left is her job and her brother Charles, who is supportive but is also ready for her to move on.
Her life changes even more in an instant when she's caught stealing supplies from the hospital. She's immediately put on leave and told that she has to go into counseling. The counselor Tig assigns her to go to Alcoholics Anonymous, the only type of support group available in their small town in Wisconsin. The group has some alcoholics, but there are others who are dealing with different problems as Lucy is. The problem isn't the focus, but the fact that the people have lost control or retreated or lashed out in some way, and some small part of them wants to get fixed, even if — like Lucy — they've been forced into the group.
A troubled teen Sara, a cop Mark, and a couple of other misfits round out the group Claire and Ron. She also ends up with Sidney, an anorexic woman she first met in the counselor's waiting room, who is as isolated as Lucy is.
Volunteering in the animal shelter helps her take her mind off her suspension and helps her see how a dog's love is a worthy thing.