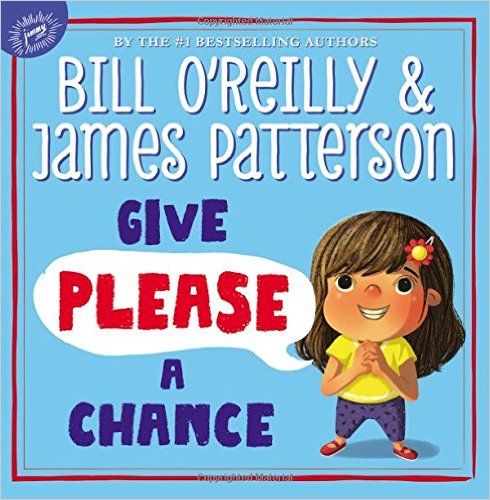 One of my favorite ways to use a picture book with young kids is to talk about the pictures, what is happening, and what the kids might be feeling. This new picture book by Bill O'Reilly and James Patterson, with illustrations by a variety of illustrators makes a great opening to conversations about what your kids want and about how using their manners might help them get it.
Please check out my post over at 5 Minutes for Mom, sponsored by JIMMY Patterson books, where you can learn more about the book, enter to win a $50 gift card a copy of the book, AND read my take on Teaching Tweens Manners.
About the Book
Give Please a Chance By Bill O'Reilly and James Patterson, out November 21st, 2016.
In this inspired collaboration, bestselling authors Bill O'Reilly and James Patterson remind us all that a single word—"Please?"—is useful in a thousand different ways. From finding a lovable stray dog to needing a partner on a seesaw, from reading a bedtime story to really, really needing a cookie, Give Please a Chance depicts scenes and situations in which one small word can move mountains. With a vivid array of illustrations by seventeen different artists, this charming, helpful book is a fun and memorable way for children to learn the magic power of one simple word: please.
ABOUT THE AUTHORS
Bill O'Reilly currently serves as the anchor of FOX News Channel's The O'Reilly Factor, the most watched cable news show for the past 14 years. His books for children include the Last Days biographies, The O'Reilly Factor for Kids, and Kids are Americans Too.
James Patterson received the Literarian Award for Outstanding Service to the American Literary Community at the 2015 National Book Awards. A tireless champion of the power of books and reading, he has created a new children's book imprint, JIMMY Patterson, whose mission is simple: "We want every kid who finishes a JIMMY Book to say, 'PLEASE GIVE ME ANOTHER BOOK.'"