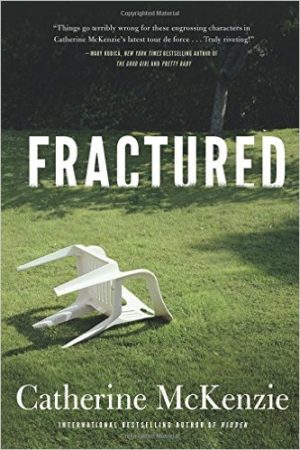 Julie Prentice and her family have just moved to a quiet suburban street in Cincinnati, hoping to start over. Julie is the author of a best-selling novel, The Murder Game, but whether the book is based on her real-life experiences in law school is a closely guarded secret. What is not a secret is that Julie has a stalker, a former classmate who is the main reason for her family's cross-country move. Julie also is on deadline for her second book and the words are not coming easily.
The Prentices try to fit in to the tight-knit upper middle class neighborhood, ruled with a tight fist by one neighbor who comes up with new rules when things happen that are not to her liking. Julie hits it off with John Dunbar, their across-the-street neighbor who has recently been laid off from his job and is also an early morning runner, and she turns to him when she fears her stalker has returned.
Fractured flips between the present and an event that happened a year ago, moving closer to the event with each chapter, alternately narrated by Julie and John. John's son, Chris, is involved in the event, and details are not revealed until close to the end, but it's clear whatever happened was tragic.
The time-jumping and narrator-flipping is a bit confusing in the beginning but the technique works well. As time progresses, the pace increases, and I had a hard time putting the book down as I had to know what was going to happen.
Shortly after I finished Fractured, I discovered the novel The Murder Game, written by Catherine Mackenzie writing as Julie Apple. I immediately requested it from NetGalley and plan to read and review it in the near future.