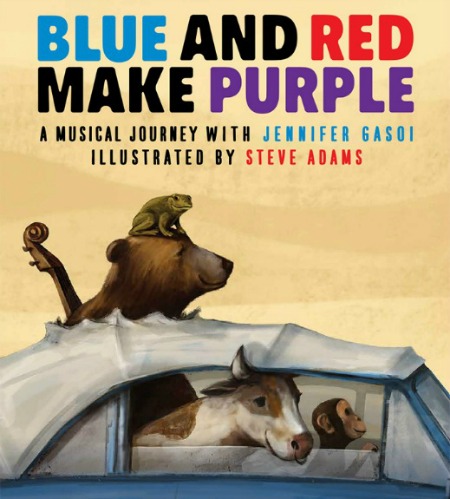 Looking for a new addition to your child's music collection, but want something that won't be piercingly annoying to adult ears? Blue and Red Make Purple: A Musical Journey with Jennifer Gasoi with illustrations by Steve Adams gives you a wide range of types of songs that are upbeat and fun to listen to, along with accompanying illustrations that are warm and beautiful to look at, too.
The twelve original songs featured here feature styles such as bluegrass, doo-wop, blues, folk, jazz, Cajun, klezmer, Dixieland swing, roots, gospel, and calypso. There's a feeling of happiness that comes through every song, making it playful and engaging for kids of all ages. Gasoi is an acclaimed Canadian children's performer, and her voice is delightful here.
I quite like the "Listening Guide" that follows the pages of illustrations and lyrics. Each track is given one page with a detailed explanation of the song's musical style and its background, with questions for readers to try to answer by listening closely to the song. With the knowledge shared in each of these descriptions, Gasoi encourages readers to tap into their creativity to come up with their own music.
With such a diverse range of musical styles and a wealth of information shared in the final pages, this book is a terrific mix of entertainment for the ears and eyes, as well as a learning tool for any young music lover.