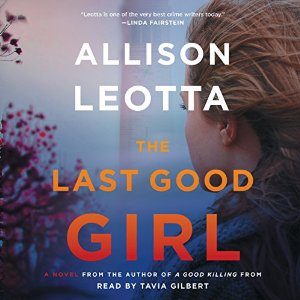 Federal sex-crimes prosecutor Anna Curtis has been working from her boyfriend Cooper's farm in Detroit since successfully proving her sister Jody not guilty of murder (see my review of A Good Killing) when she is tapped to help find a missing coed from a local college campus. Emma was last seen running away from a bar, followed by fraternity boy Dylan Brooks, son of a powerful local politician.
Anna joins forces with the FBI, trying to cut through the red tape put in their way by Dylan's legal team and the college itself while mindful of the time left to find Emma alive ticking away. The fact that Emma is the daughter of the dean is actually more of a hindrance than a help in the investigation. But when video diaries Emma posted earlier in the semester come to light, her charge of rape filed against Dylan makes Anna even more determined to find evidence against him. Only Emma's body has not turned up, and it's clear that everyone involved is hiding something.
Anna's investigation alternates with excerpts from Emma's vlog, where the reader experiences her first days at college, the party where she meets Dylan, the aftermath of the rape, and her decision to pursue charges against Dylan. Emma runs into a lot of obstacles from both the college and the Title IX activist who's supposed to be on her side, and it's no surprise she is frustrated and angry.
Anna also has her own personal issues to deal with, as her boss and ex-fiance, Jack, is in town for the case, and she needs to confront her unresolved feelings about their relationship. Not only does she have to decide if she can put her past with Jack behind her, she isn't really sure she wants to. But she can't turn away from Cooper either, who is always there supporting her.
The topics covered in The Last Good Girl are not easy to read. Rape culture is pervasive today, and the statistics are sobering. Emma's attempts to seek justice for what was done to her, and the walls she keeps running into, are sadly reflective of reality, especially on college campuses. Allison Leotta's real-life experience in this arena make the events in the novel even more heartbreaking.
Notes on the audiobook:  The Last Good Girl is read by Tavia Gilbert, who also read A Good Killing. Once again she distinguishes between the main female characters and gives them their own voice.