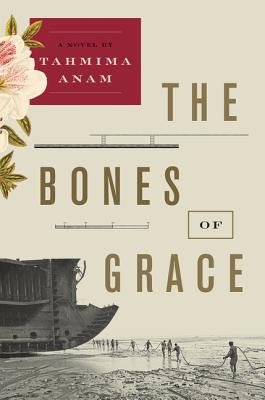 Bangladeshi writer Tahmima Anam has the ability to turn abstract ideas into flesh and blood. In her book The Good Muslim (linked to my review 4 years ago), she looked at the aftermath of war, and contrasted secularism vs religion in the lives of one family. The Bones of Grace contrasts poverty and wealth and the classism associated with those issues. Yet her gorgeous writing drenches these issues with humanity and compassion, giving us complex characters that stay with us long after we've turned the last page.
This novel is the 3rd in the Bengal Trilogy, but they are loosely-linked and it took me a while to figure out the connection, which is familial. The book is written as a letter from Zubaida Haque, a wealthy and well-educated Bangladeshi paleontologist, to Elijah Strong,  a man she meets in Cambridge, MA, shortly before she is to leave for a dig in a remote part of Pakistan. It's a whirlwind affair in which they both fall in love, drawn to the opposite extremes they represent–he with a supportive family who don't mind that he's only sort of trying at getting a doctorate in philosophy, she carrying on her shoulders a weight of family responsibility and expectations, complicated by the fact that she's adopted and knows nothing about her birth mother.
When the dig ends abruptly, due to warring factions and politics in Pakistan, Zubaida (Zee) returns to Bangladesh and her family. Struggling with depression and a sense of helplessness, she marries her childhood sweetheart and close family friend, and moves with him into his family home. However she's frustrated with the resultant societal expectations. Discontent, she seizes the opportunity to help make a documentary on the shipbreakers, men who eke out a living doing the dangerous work of stripping ships of everything of value, including scrap metal. Living in barebones housing, paid a pittance, doing dangerous work with various levels of noncompliance to safety regulations (where they even exist), the men represent their compatriots around the world. One of them, Anwar, holds the key to Zee's past.
I really appreciated Anam's writing in her portrayals of both Zee and Anwar. Neither of them are entirely sympathetic characters, although Zee's capitulation to society's wishes and her vacillations are certainly understandable. Anwar, with his misogynist view of women, came across as realistic for a man of his circumstances and upbringing, and I appreciated that he wasn't whitewashed into something palatable for Western tastes. I actually think Anam is an incredible writer, who opens up new worlds to us.
The Bones of Grace is extremely well done, managing to help us relate to those with whom we thought we had nothing in common. It's also well-plotted, a character-driven novel with unforgettable people. Highly recommended.