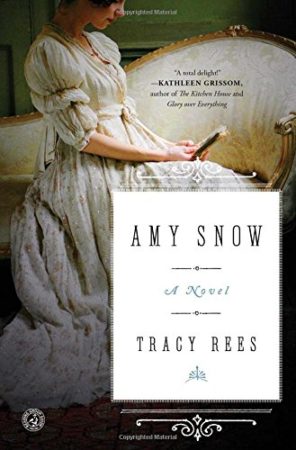 The year is 1831 when 8-year-old Aurelia Vennaway finds a newborn infant naked in the snow on her family's estate. Her parents reluctantly agree to let the orphan stay, but she must stay out of sight, raised by the household staff. Aurelia names the baby Amy Snow and takes her under her wing as plaything, then sister, then friend.
17 years later, Aurelia has died, afflicted by a heart condition, and Amy has been turned out of the Vennaway home, left with only a small inheritance and a letter from Aurelia. Amy is to embark on a treasure hunt that ends up leading her across England, following the clues to each new letter, which also introduce her to new friends, suitors, clothing, experiences, and the secret Aurelia kept from everyone.
Amy Snow is an enjoyable novel with an unlikely heroine who grows from timid and unsure of herself to strong and capable. She starts out believing that she must follow Aurelia's clues, and that she has no choice but to do as she is asked, and realizes she doesn't have to do anything she doesn't want to. The novel drags some at points, but once the pieces of Amy's history have been filled in and she makes real progress in finding out the secret, the pace picks up. There were also times the novel lost the Victorian feel and moved into modern-day melodrama.
Amy Snow was the Winner of the UK's Richard & Judy Search for a Bestseller Competition (similar to Oprah's Book Club) and was an excellent first effort by a previously unknown author.