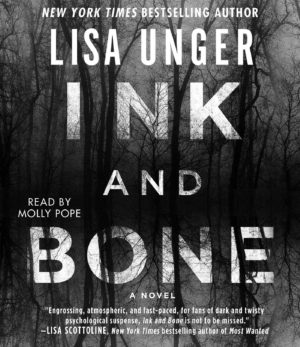 Finley Montgomery has moved across the country from Seattle to the Hollows, the small town outside of New York City where her grandmother lives and from which her mother escaped years earlier. Eloise is the only one that understands Finley's psychic abilities and can help her learn how to use them. When Finley starts hearing a strange squeak-clink noise that follows her wherever she goes, ignoring it only works for so long before she gives in to the need to discover its meaning.
Abbey Gleason has gone missing, and her mother Merri will do anything to find her. She hires Jones Cooper, former cop turned private investigator, who asks Eloise to assist him as she has in the past, but Eloise passes the case along to Finley. Finley is not thrilled by her abilities, both annoyed and amused by the children who appear only to her, but she can't ignore the clues that increasingly lead her to the need to find Abbey. Alternating with Finley and Merri's narration is that of a girl by the name of Penny who is being held captive by a couple and their son. Who exactly Penny is and what she has to do with Abbey Gleason is part of the mystery that's slowly revealed.
Finley is an unusual heroine with her pink hair, tattoos, and motorcycle, struggling with her abilities on the inside and her feelings for her sort-of ex-boyfriend, Rainer, who followed her from Seattle, on the outside. Merri is a little harder to swallow, aware of her husband's flings and in a way one of the factors in her daughter's disappearance. Penny is a fighter and easy to root for, even if you're not really sure who she is until the end.
Ink and Bone is not part of a series, but is one of several of Lisa Unger's novels set in the Hollows. A recurring theme for the Hollows is that it wants what it wants, and that theme is true in Ink and Bone as well. While reading the previous books set in the Hollows is not necessary to enjoy this one, if you do want to read them in order, start with Fragile, reviewed by Dawn. I also enjoyed In the Blood, which does not take place in the Hollows.
Notes on the audiobook: This is the first audio book I've listened to that was narrated by Molly Pope, and a quick search tells me this is her first audio book. I enjoyed listening to her reading the story. I didn't lose track of the story or have to rewind frequently because I missed something, which is a good thing in my book.