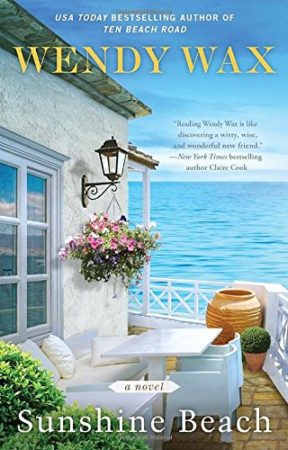 Wendy Wax's Ten Beach Road series continues this summer with book 4, Sunshine Beach, which finds Avery, Nicole, Maddie, and Kyra back at Bella Flora, trying to figure out what to do next after quitting their home makeover reality show, Do Over, when the network refuses to abide by their wishes and instead exploits their personal lives.
They discover an old hotel, owned by two sisters with unhappy memories of the place where their father died, and convince the sisters to let them renovate the property so it can be sold. They are joined by Avery's boyfriend and his father, who own a construction business, and many of the contractors and subs who helped them in the past, as well as a designer that reminds Avery of her mother in a way she can't put her finger on.
Sunshine Beach has less of the home renovation specifics than previous books but just as much, if not more, drama. The story focuses mostly on Nicole, whose refusal to commit to hunky FBI Agent Joe Giraldi is causing tension in their relationship, and has begun to receive text messages from her brother Malcolm, serving a jail sentence for the Ponzi scheme that brought the women together. Maddie is trying to enjoy her relationship with William "the Wild" Hightower while trying to control her jealousy over the women who flock to him, and managing the presence of her ex, Steve, in the house, where his attempts at being helpful fail spectacularly. Kyra is still working on balancing her life as a mother and filmmaker while allowing the movie star (and married) father of her son to be a part of their lives. And Avery is grieving the loss of her mother, designer-to-the-stars Deirdre, and dealing with her feelings of guilt for pushing Deirdre away.
Sunshine Beach is another great summer read, with romance, sunsets, and even a murder mystery thrown in when a skeleton is discovered on the property. While it could be read standalone, I do recommend reading the other books in the series to understand the full history of the women of Bella Flora. You can check out my reviews of Ten Beach Road, Ocean Beach, the novella Christmas at the Beach, and The House on Mermaid Point.