---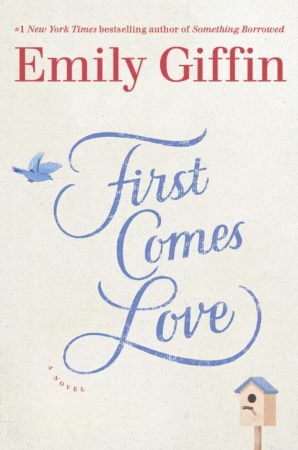 Any reader seeing the words "First Comes Love" on a book title will immediately fill in the rest in her mind; "…then comes marriage, then comes the baby in the baby carriage!" But Emily Griffin's latest novel isn't really about romantic love. Rather, it's about the love that underlies us from cradle to grave–the love of family, which includes romantic love of spouses, yes, but also that of parent/child and brother/sister or, in this case, sister/sister.
Meredith and Josie are sisters who don't get along. When they were in their late teens, their older brother Daniel was killed in a car accident. Daniel was the golden son; smart, successful, kind, and thoughtful, outstanding in whatever he took it in his head to do. His death left not only an enormous hole in the family, it changed them all in myriad ways. Their father took up drinking again, which led to their parents' divorce. Meredith found herself in the arms of Daniel's best friend Nolan. And Josie, the party girl, went to her room and stayed there for a long time, and has refused to discuss her brother or his death ever since.
Now, 15 years on, Meredith has become a lawyer, and she and Nolan have one daughter, Harper, 4. Josie is a first-grade teacher who never married and who lives with her best friend Gabe in a platonic relationship that mystifies her family. As the story opens, Josie is thrown into a tail-spin by the arrival in her class of her ex's daughter, complete with the ex's wife who wants to be room mother. She has always dreamed of being a mother, and at age 38, fearful her time is running out, decides to pursue seeking a sperm donor and giving up dating altogether, despite the fact that she's just met Pete, a charming physical therapist, through an online dating site. Meredith sees Josie as incredibly selfish, someone who always does whatever she likes without considering anyone else's needs. On the other hand, Meredith is struggling with a sense that she only married Nolan because it made such a good story–tragic accident brings loving couple together–and that she's never really been in love with her husband. She also dislikes her career, and wishes she'd continue to pursue acting and her creative side as she did in college before the accident. The two sisters clash whenever they come into contact.
First Comes Love is told in alternating voices of the two sisters, and it's helpful to see them from the other's point of view. Both are unhappy in their own ways, and neither is willing to give the other the benefit of the doubt. Their brother's death is definitely the elephant in the room, a topic that Josie won't discuss but that needs to be discussed. It's not until facts surface that the sisters are able to put aside their differences and begin to come together. The novel deals with family relationships in all their glory–shared memories both good and bad, intense emotions, the ability to push each other's buttons and the ability to join each other's sorrows in ways others can't. A complex and heartfelt story, the novel is thought-provoking and multi-layered, and I enjoyed it even while I didn't always like the protagonists.