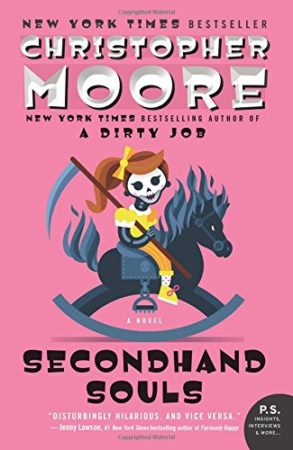 Over the years he's been writing, Christopher Moore has covered vampires, demons, Vincent Van Gogh, Shakespeare and other equally unrelated subjects. In A Dirty Job, Charlie Asher was recruited for the job of Death Merchant, where he retrieved souls so they could be passed on to the next soulless person. Together with his daughter Sophie, who is protected by two enormous hellhounds, a 7′ tall music store owner named Minty Fresh, Charlie's Goth employee Lily, and a policeman named Rivera, Charlie fights the Darkness that has risen between the forces of good and evil in the form of what Charlie calls Sewer Harpies.
Secondhand Souls picks up a year later (though it's been 10 years since A Dirty Job was published), and Charlie's soul is not exactly where he wants it to be, but he's happy he's alive. Sophie is living with Charlie's sister Jane and her wife, but the hellhounds have disappeared. The Death Merchants who were killed in the previous battle with the Sewer Harpies have not been replaced, and no one knows what's become of the uncollected souls. Add to that the return of the Sewer Harpies, along with a strange man dressed all in yellow, and chaos reigns once again in San Francisco.
If that summary is a bit disjointed, it's because there's a lot going on in Secondhand Souls. In addition to Charlie's band of friends and family, there's Mike Sullivan, a Golden Gate Bridge painter who can suddenly talk to ghosts. Lily now works in a call center helping potential jumpers off the bridge, and Rivera has retired from the police force and is selling used books, ignoring his Big Book of the Dead and it's ever-growing list of names. This ragtag group of people, along with Charlie's Buddhist nun girlfriend Audrey and the Emperor of San Francisco, has to figure out who the Ghost Thief is and once again protect San Francisco from the Darkness. Oh, and there's a banshee.
Secondhand Souls has a strange cast of characters, some of them a bit disturbing, but it did make me laugh. Since I read A Dirty Job so long ago I didn't remember much of the plot, so I wouldn't say reading that one is a requirement, but it probably would help understand a lot of what's going on.
For more on Moore's work, check out my reviews of Sacre Bleu and The Serpent of Venice.
Thank you to TLC Books for providing Secondhand Souls as part of the book tour.