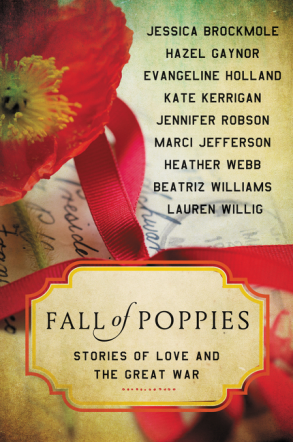 For those alive when the Great War, the War to End All Wars, ended at last at 11 a.m. on November 11th, 1918, the moment brought an enormous range of emotions–great joy, naturally, but also numbness, a renewed sense of loss and hopelessness, and even guilt. In this collection of short stories, several writers of historical fiction have chosen to imagine the lives touched by that moment. The stories are of love, between husband and wife and boyfriend and girlfriend certainly, but several moved beyond that to look at parent and child, lost love, and even in one case imagine an idealized love of a picture cut from a story of a young girl in distress.
My favorites tended to be the nontraditional. The Record Set Straight, by Lauren Willig, opens in Kenya in the year 1980, and tells of a two distant cousins growing up together, connecting briefly, and then being separated. Each of them married someone else and didn't stay in touch, but he has summoned her back to their childhood home. I loved and sympathised with the grieving widow determined to avenge the death of her son, going alone past the enemy lines with a bag full of dynamite, in Hour of the Bells by Heather Webb. Hush, by Hazel Gaynor, follows a midwife's desperate attempts to get a newborn to breathe while her last surviving son lies wounded and covered in mud on a Flemish field, gasping for his own breath. It's more mystical than some of the other stories. The newborn is premature, and his father hides in the church praying desperately while facing the fact that his own status as a conscientious objector has made him an object of scorn and even hatred in the village.
Even the more traditional stories didn't try to hide war's atrocities and terrors. There was the artistic young woman painting tin masks to help wounded soldiers hide their disfigurement so they could walk unnoticed down the street in All for the Love of You by Jennifer Robson. In The Daughter of Belgium by Marci Jefferson, the young single mother  was raped by the same German soldier who killed her parents, and she's now turned reluctant nurse to another young German.
The Photograph was another nontraditional story, set in present-day Dublin at a remembrance for the 1916 Uprising, and a reminder that British soldiers weren't sent only to France and North Africa, but were fighting the Irish for control of Ireland at the same time. This story, by Kate Kerrigan, moved back and forth between a hundred years, telling the story of modern day descendants as well as the frustrated love of their ancestors.
One of my favorites was Something Worth Landing For by Jessica Brockmole, although it was a very sweet love story. The hero, Wes, is just leaving the doctor's when he passes a young woman sobbing dejectedly in the hallway. She doesn't try to hide her emotion and blows her nose with a hearty honk, and that's what gets his attention and begins his falling in love with her. It was so unlikely and somehow realistic too. Wes is a really sweet guy who's always played second fiddle to his older brother, and as such has grown up feeling that no one can ever really love him for himself, and so his chance to play hero for a change and his genuine good-heartedness felt true.
Fall of Poppies: Stories of Love and the Great War
offers many perspectives on a historic moment. The stories tell of love, longing and loss, of resilience and courage and strength. In a way it's a monument to the suffering survivors, and to the strength of the human spirit.