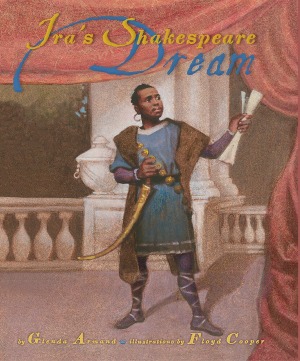 Born in 1807 in New York City, Ira Aldridge was a free African American. Educated at the African Free School, Ira discovered his passion for acting early in life. From a young age, he was captivated by the works of Shakespeare, watching performances and eventually taking the stage himself at the African Grove, an all-black theater. His destiny to become a renowned Shakespearean actor wouldn't be fulfilled in his home country, but instead across the ocean in England. Glenda Armand's picture book Ira's Shakespeare Dream brings Aldridge's amazing life to young readers, highlighting a talented and determined figure who deserves to be more well-known.
Praised by his teacher, classmates, and anyone else who witnessed his ability to bring Shakespeare's words to brilliant life, Aldridge seemed to have a natural skill at interpreting the depth of emotion and humanity in the Bard's plays. Though his father wished for him to follow in his ministerial footsteps, Aldridge did not want to give up on his dream.
Seeing slave auctions first-hand and narrowly avoiding being sold into slavery himself during a trip to South Carolina only strengthened Aldridge's determination. When presented with an opportunity to travel to England, he left with the hope of making his father proud one day. Armand presents key moments in Aldridge's rise to fame in England and other European countries as he became a highly accomplished Shakespearean actor, most noted for his celebrated performance as the title character in Othello.
Floyd Cooper's familiar soft oil wash illustrations are done in warm tones and almost seem to glow brighter when depicting on-stage scenes. His artistic realism shines here, as it does in all of his books.
This biography does more than introduce a celebrated performer to young children. It also portrays a man of great courage, who from a young age, and in the face of terrible injustice, dared to dream. His perseverance and talent saw that dream come to fruition, and his story can serve as inspiration to all children.