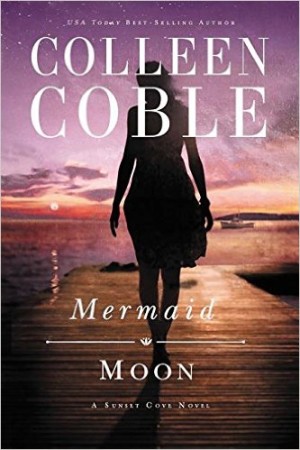 Mallory is mid-30s, a young widow living in Bangor, Maine, with her 14 year old daughter, eking out a living by selling handmade jewelry. Her life isn't great but it's chugging along. That all crashes to a halt when she gets a call from her estranged father, obviously dying, who gasps out "Find … mother!" This makes no sense. Mallory's mother died 15 years earlier, in a boat during a storm. Mallory and she had had a fight, and Mallory has always blamed herself for her mother's death. That's one of the main reasons she ran from her hometown. The other was her high school sweetheart Kevin. Mallory was pregnant and the two had planned to marry, but she felt her miscarriage gave him reason to back out, and she took off without a word of explanation.
She rushes back to Mermaid Point, the small community where she grew up, to investigate her father's death, leaving her daughter in care of her neighbor and close friend, Carol. As the two enter Mallory's house, a man attacks them, but lets them go when he realizes that Carol isn't Mallory. Panicked, Carol takes the girl and goes to find Mallory in Mermaid Point. Mallory is staying in her parents' house but the house is robbed then set on fire. It's obvious that someone is tracking Mallory.
Meanwhile, Mallory and Kevin find themselves connecting again. Both are single parents; Mallory is widowed and Kevin divorced. Mallory, Carol, and Mallory's daughter Haylie move in with Kevin and his daughter Sadie. And this means that Mallory and Kevin have to confront their feelings for each other, and the lack of trust. Mallory needs to deal with her own guilt and shame before she can even begin to move forward, but the first problem she's got to handle is simply staying alive long enough to be able to do so.
Although Mermaid Moon
is a bit of an adventure story and a bit of a love story, it's primary message is forgiveness–forgiveness of self, and giving grace to others. It was a light, enjoyable read.