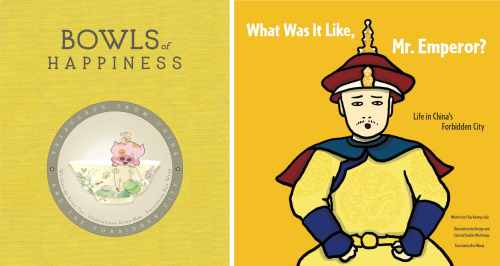 Learning about cultures other than one's own could be called a first step in becoming a thoughtful citizen of the world. Educators and parents often turn to children's literature to help provide a peek into different lifestyles and cultures for their students and kids. The non-profit educational and cultural institution China Institute in America strives to introduce children to Chinese culture, and they've created a series called "We All Live in the Forbidden City" in this effort. The first two titles were released last year, and two additional books were added this fall- Bowls of Happiness: Treasures from China and the Forbidden City and What Was It Like, Mr. Emperor?: Life in China's Forbidden City.
Geared toward children aged four years and up, Bowls of Happiness, written by Brian Tse and illustrated by Alice Mak with translation by Ben Wang, explores images commonly found in Chinese artwork and culture and helps to convey the messages often related to them, especially a deep respect for nature, and how that is connected to happiness. This small-sized book begins with a note more appropriate for adult readers about the movement to preserve Chinese history and culture, and is then followed by a brief history of China's Forbidden City. It is after this that an illustrated story for young children is presented. A young girl, lovingly nicknamed Piggy by her parents at birth, is given a painted bowl made by her mother, a potter. Her mother continues to paint on details that include images from traditional Chinese art, and each image is shown in gorgeous illustrations as the story builds around clouds, flowers, butterflies and other beautiful aspects of nature. Following the story are more text passages that give information about Chinese traditions and photographs of amazing porcelain bowls from the collection in the Palace Museum in Beijing, China. The format of this book is different than most picture books, even including a final space for children to design their own happiness bowl, so parents or teachers may approach sharing this book with young children in a different way rather than a straight-through reading in one sitting. I find this one quite delightful and very informative, though I was surprised by the illustrative choice to depict the family in the story as seemingly Caucasian.
What Was It Like, Mr. Emperor is written by Chiu Kwong-chiu and Eileen Ng with illustrations by Design and Cultural Studies Workshop and translation by Ben Wang, and it opens with the same two introductory notes as Bowls of Happiness. This book is aimed at older school age children, and the information presented is more complex and detailed making it perhaps even a good resource for middle schoolers, as well. Some question/answer format is present, with straightforward questions about what life was like for an emperor in the Forbidden City. Real figures from China's history are profiled, and with 100 pages of information, readers will come away with a solid sense of this aspect of Chinese culture that was present for centuries.
For more information about this book series, check out We All Live in the Forbidden City, which includes information about the books as well as online resources, games, and activities.