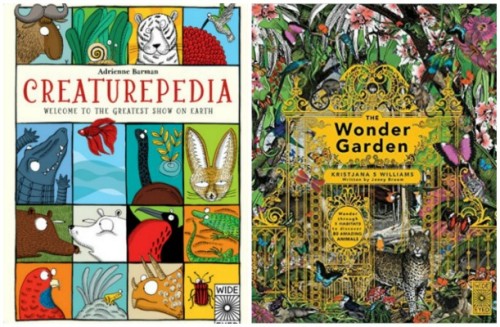 Wide Eyed Editions is a relatively new imprint, started in 2014, and according to their website, their focus is on creating nonfiction for children and families that inspires curiosity. Two of their recent releases, Creaturepedia: Welcome to the Greatest Show on Earth by Adrienne Barman and The Wonder Garden: Wander Through 5 Habitats to Discover 80 Amazing Animals by Jenny Broom and illustrated by Kristjana S. Williams, have very different approaches but both achieve this goal.
Creaturepedia, thick like a textbook, is actually the one more appropriate for younger audiences of these two books. Aimed at 5-8 year olds, this book categorizes several hundred animals in over 40 different categories in a unique fashion. Rather than grouping animals by geographic location or animal kingdom category, here animals are grouped more by shared behaviors or characteristics. As a result, the Contents page shows chapters entitled "the big-eared beasts" including creatures such as the koala, aardvark, serval, and grey long-eared bat, and "the munch-it-uppers" with the barracuda, bald eagle, and saltwater crocodile. The pages feature illustration spreads with these unlikely groups of animals posed together in slightly cartoonish drawings. Short facts about each animal appear below its name, making up the only text in each chapter. Coming in over 200 pages, this is a book to browse and explore rather than consult as a resource, and the unique grouping will help children make connections among animals that they likely would not have otherwise.
An oversized picture book, The Wonder Garden features eye-popping, vivid illustrations and a wealth of information about a wide variety of animals. Fit for older children who will attend to longer passages of information, this book groups animals based on the geographic locations of their habitats. Five areas in the world are explored: the Chihuahuan Desert, the Amazon Rain Forest, the Black Forest, the Himalayan Mountains, and the Great Barrier Reef. As one might imagine, these vibrant locales provide incredible specimens for discovery. Keep this book around for children to look through at their leisure, for there is so much in between these pages that it will take several sittings to take it all in. Pre-readers will certainly enjoy looking at the bold illustrations here, and independent readers could get lost for hours indulging their interest in the natural world. For many suburban children these habitats will be foreign and exotic, and so too the animals, making this a unique animal book among the others.
I'm happy to have been introduced to Wide Eyed Editions through these two books. I'm looking forward to more diverse children's nonfiction in the future.