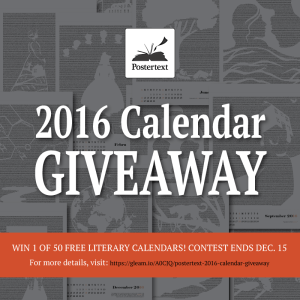 Some of you may have noticed that a major gift-giving occasion is coming up rather soon. If you're looking for something unique and thoughtful for the literary person in your life, the Postertext Calendar is a beautiful idea, unusual and well-executed. Each month features an image composed entirely of the words taken from a text without added lines or edges, followed by a quote that includes the name of that particular month. This calendar is gorgeous.
"From the philosophy of Thomas More to the exceptional jungle-themed prose of Rudyard Kipling, the 2016 Literary Poster Calendar inspires and delights with twelve stunning images representing some of literature's most enduring works. Designed using only the words of each classic text, these original pieces of art serve a dual purpose as both a month-long reminder of each author's exceptional masterpiece, and thanks to perforated edges for easy removal, a stand-alone work you can display on your wall in perpetuity.
The Literary Poster Calendar's diverse and invigorating selection of included works makes the passing of each month a chance to discover one of literature's great pieces all over again. Perfect for the bibliophile or casual reader alike, the incredible artwork featured throughout this one-of-a-kind calendar is guaranteed to make 2016 a year you'll never forget."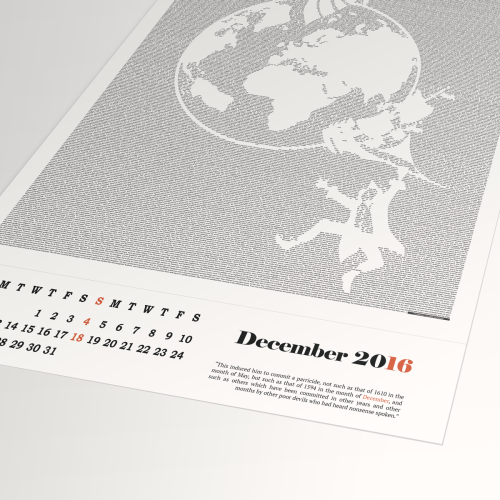 You can enter to win one of 50 calendars that are being given away. Follow the instructions below and good luck! Or simply visit their website at postertext.com to see even more options.