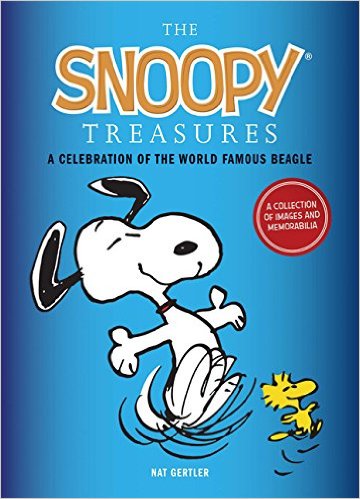 My son is a died in the wool comic buff. He reads Peanuts in the Sunday comics, he owns several anthologies which he reads and re-reads, and he enjoys the specials and the recent movies too. When he saw the movie, he said that there was some material that was not from the canon, but he enjoyed it anyway. When we watched Charlie Brown Thanksgiving, and he saw Charles Schultz's name mentioned in the credits, he said, "Oh good. This is part of the canon." That's going pretty deep for an eleven-year-old. So when I saw The Snoopy Treasures: An Illustrated Celebration of the World-Famous Beagle, I thought immediately of his desire for knowledge and trivia.
This book is under the tree for him right now, but after looking through it, I am pretty sure he'll be thrilled by it.
There are twelve sections:
In the Beginning, with some information about the author and a quick look at Snoopy's changes
Snoopy the Sportsman, featuring golf, tennis, surfing, and more, as well as many antics from the Masked Marvel
Snoopy's Roles introduce the author, as well as a few lesser-known careers
A Dog's Home of course deconstructs that red house
Family explores Snoopy's blood relatives
Friends and Other Animals highlights Snoopy's involvement with other creatures
Human Beings fleshes out some of the other characters in the strip
Snoopy in the Military features strips with the Red Baron as well as other historical context
A Colorful Cultural Icon in Black and White identifies roles off-strip for the dog
Snoopy Takes Off looks at the parade balloon and even Snoopy in space
Snoopy in Three Dimensions shows examples of just that
Snoopy in the Larger World looks at Snoopy's appearance in culture
Most of the sections have a really neat envelope/divider with pull-out memorabilia, such as recreations of such items as a baseball pennant from the 60's and 70's, a letter from President Ronald Reagan to Charles Schultz, the last Peanuts strip ever printed and more. There are also original ads and PR campaigns which featured our favorite animated beagle. All of this information is interspersed with strips that illustrate the side of Snoopy that is highlighted in that chapter.
This is a colorful and unique book that any collector would love to ad to his or her bookshelf.
Check out other great gift ideas for booklovers who love dogs over at 5 Minutes for Mom today.