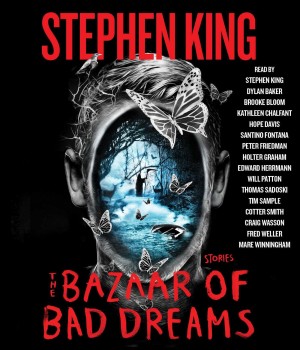 Usually I know ahead of time when Stephen King has a new book coming out, but his latest collection of short stories caught me by surprise. So I was happy to accept an audio copy of The Bazaar of Bad Dreams from Simon & Schuster Audio, and I was thrilled at the list of actors and audiobook veterans who voice the stories in this amazing compilation.
Some of the stories I'd read/listened to previously, including Mile 81 and The Dune (linked to my review), Ur, which was written when Amazon first introduce their Kindle Singles and features a pink Kindle from a parallel dimension, and Blockade Billy, a straight-up baseball story with nothing supernatural or scary and a bit of a twisty ending.
A few of the stories have ties to the Dark Tower series, and others are reminiscent of other works. Almost all of them are about getting old, dying, or death. There are a couple of poems as well, though King himself admits poetry is not his strong suit. My biggest gripe about short stories is they often don't have good endings, and while that's the case in one or two of these, for the most part the conclusions are satisfying.
My favorites of the stories were Obits, about a writer for an online magazine discovers the obits he writes have an unexpected power, Batman and Robin Have an Altercation, where an elderly man with dementia and his son get into a fender bender with a shady character, and Bad Little Kid, featuring a man on death row who can't escape a mean boy with a beanie.
There are supernatural elements to many, but not all, of the stories, and very little in the way of horror. King is the master of long, often rambling novels, but I think he's at his best with little nuggets like the ones in The Bazaar of Bad Dreams.
Notes on the audiobook: The long list of narrators in this audiobook include King veterans such as Will Patton and recognizable names like Edward Hermann. King himself reads the intro to each story as well as the collection itself, offering insight into how the idea for a story came to him, how an older story may or may not still be relevant, and other fun tidbits about his work.