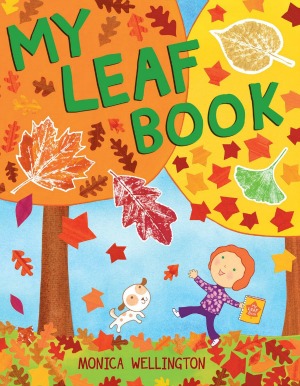 Autumn is upon us in full force, and as such, any walk taken in our tree-lined neighborhood elicits the crunching noises of fallen leaves under our feet. Connecting real life experiences, especially those in nature, with children's literature is a particular passion of mine, and the little ones in my life are quite enjoying Monica Wellington's My Leaf Book.
A young girl walks along the path of an arboretum in the opening pages of this new picture book, and she is surrounded by a variety of different trees, illustrated in the popping yellows, reds, oranges, and greens of fall. The varied shapes of the leaves give a hint at the types of trees she's going to pass, and she is excited to collect as many leaves as she can. The pages that follow alternate between showing the girl discover one type of tree and introducing realistic collage images of that type of leaf. Tidbits of information about each type of tree are provided. For example, on the page featuring the beautiful fan-shaped ginkgo leaves, there is a small text box at the bottom that states: "The ginkgo is the oldest tree on Earth. It has existed for millions of years."
The presentation of simple facts within the story, and the mix of whimsical illustrations and realistic pictures created through leaf rubbings create a picture book and information book hybrid of a sort. This framework allows for a fun read aloud experience that interweaves facts and encourages young readers to reflect on their own experiences with fall leaves.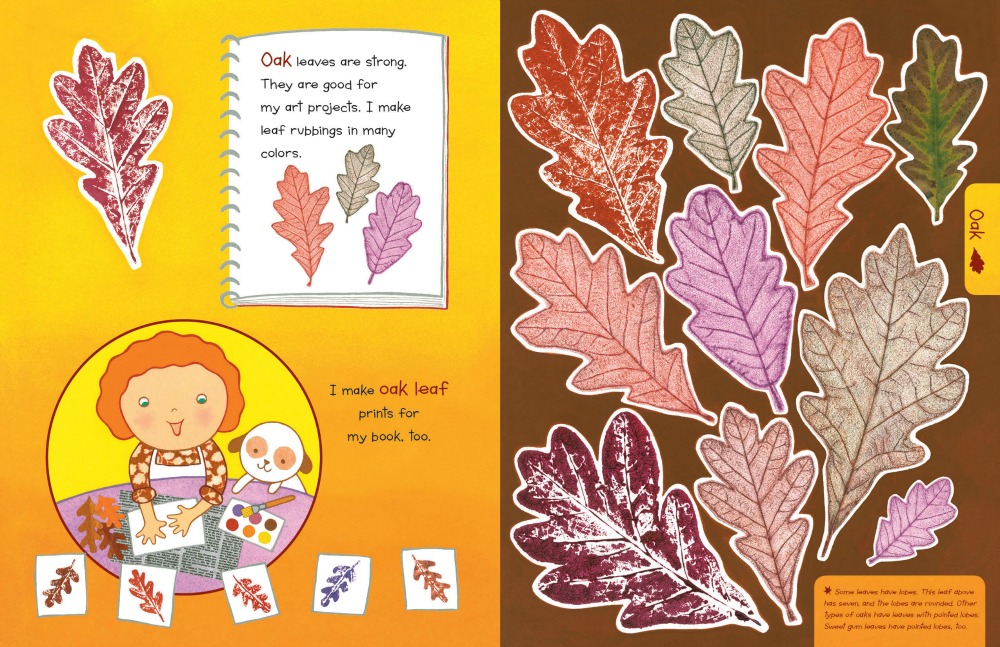 As the little girl in the story collects leaves to paste into her own leaf book, the final page gives readers suggestions for their own craft projects involving collected autumnal leaves. Leaf rubbings and leaf prints are classic projects that parents and teachers will enjoy introducing to the youngest generation, extending the story experience even more. What could be better than enjoying a mild fall day with a colorful, engaging, and educational picture book and collecting leaves with the little ones in your life? Happy reading!