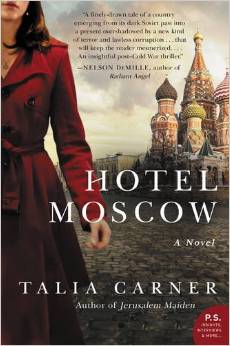 Brooke is the only child of Holocaust survivors, born late in life to parents who lost their first families to the horrors of the camps. As a result, she has come to adulthood wanting to help others but with her own baggage to carry, including some fairly epic mistakes made in college. But now, with one job just ended, she's on her way to Moscow with a group who want to teach entrepreneurial skills to Russian women. It's 1993, the Soviet Union is dissolving, Russia is opening up, and Brooke's philanthropic heart is excited to return to her mother's homeland to help, in spite of the fact that her extended families were killed in Russian pogroms. She has no idea what she's getting herself into though.
Culture shock doesn't even begin to describe what Brooke and her friends encounter. As communism is ending, the void has been filled by the mafia, gangs that destroy factories and cripple businesses just starting to get off the ground. The Americans find that the Russian women won't network–they don't trust each other not to steal all their ideas and contacts. Corruption is at staggering, decapitating levels. The women are forced to stay at Hotel Moscow, a creepy place that takes their passports, bugs their calls, and has a woman stationed next to the elevator on their floor to keep an eye on their comings and goings.
Two Russian women, however, stand out. Svetlana, a multi-lingual single mother, should have been a translator but her gang-rape led to her being labeled a woman of "bad moral character" and forced into work at a factory. Dr. Olga Rozanova is a sociologist who is inspired by her visitors to take more risks. Both women are fantastic characters, truly inspiring, living patiently in terrible conditions and pathetically grateful for the help and ideas of the American women. And Brooke in particular befriends them both.
Brooke ends up caught in machinations beyond her control, trying desperately to figure out who she can trust and how she can contact them safely.
Hotel Moscow
was a fascinating book. Although in many ways it was not an easy read, I was still intrigued at this glimpse into a country that wasn't changing in the ways you had hoped. I wondered about the accuracy, and really enjoyed an essay at the end by author Talia Carner, who visited Russia during the early 90s and who writes movingly about the challenges faced by a society just freeing itself from totalitarian rule. Thought-provoking, at times disturbing, with layered prose that stays with you long after you turn the final page, this is a meaty read, a rare combination of action and character and place, a page-turner that makes you think.
Highly, highly recommended.