(If you are looking for What's on Your Nightstand, please come and link up on 9/29)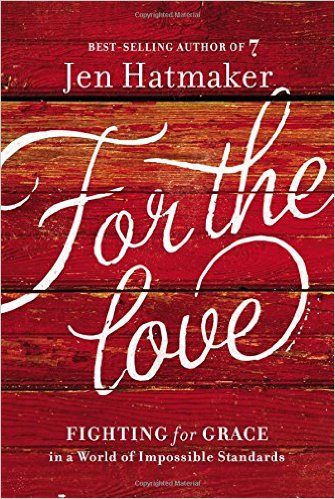 Oh, for the love, this is a great book. It not only had me contorting with laughter, but also commiserating about growing older, raising crazy kids, and pondering deeper issues like friendship (how important it is, and how it can be hard and painful as well), and the changing role of the church in our world.
I think Jen Hatmaker is at her best in For the Love: Fighting for Grace in a World of Impossible Standards. As women today, we do strive for impossible standards. We expect those who lead us and love us to be perfect, we want to be perfect, and we just can't. She tries to address many of those impossible standards.
She says this about parenting school-aged children:
And the learning. Heaven help if you need to learn something new. At this point, education is a fool's errand. Your brain is not helpful. It is done. It already took you to college….This is unfortunate, because about this time you go back to middle and high school with your spawn. You are expected to help with algebra and chemistry and the remembering of all things, but your brain resembles the bottom of your purse: lost pen caps and congealed, undefined filth. It feels furious about the chemistry homework. It feels angry about this new math. It will not have this crap. It will take a nap while those children work their own stuff out. Your brain already completed eleventh grade. It has done its time (page 12).
Jen Hatmaker is a busy woman. She is raising five children, a pastor's wife, a speaker, a writer, a blogger, and she even let HGTV into her home while she was doing a renovation. When she writes about balance, it's something she has lived. She has fought for it, and she's learned. She advocates finding your beam and staying on it. When we try to balance things that are not "on our beam," this is what happens. The "one last thought of the day," is "I am doing a terrible job at everything. I feel like I'm taking crazy pills" (page 5).
The trouble is, we have close-up access to women who excel in each individual sphere….We makes notes of their achievements, cataloging their success and observing their talents. Then we combine the best of everything we see, every woman we admire in every genre, and conclude: I should be all of that. It is certifiably insane (page 5).
Here's a glimpse of what she has to say about fashion:
I enjoyed this one a lot. I learned and reflected and was confirmed in what I'm trying to do anyway, and all of that while laughing really hard.