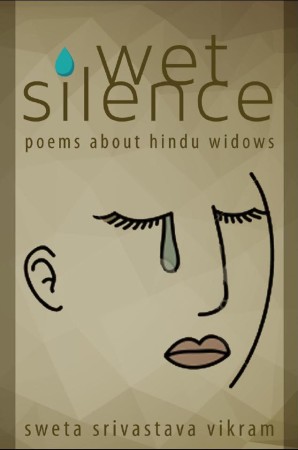 In this slim volume, poetess Sweta Srivastava Vikram takes us into the thoughts and souls of Indian widows. These short poems cut deep, revealing thoughts and emotions that the widow herself isn't sharing with the world. Hindu widows in various parts of India and in various circumstances face different things. Some of the widows obviously loved and were loved truly, and now they grieve their loss. But for others, it's more complicated.
"A line of betrayal ran/from the crease in his lips/to the line running between my breasts," begins one poem titled Broken, which goes on "I smelled him in the maid's room, in every chili she chopped/to spice up what never was bland in our life." (31)
"In many regions and cultures, as soon as a woman becomes a widow, she loses control of many things, including her right to remarry, eat certain foods, or wear colorful clothes,"  explains Shaila Abdullah in the foreword. (iii) Many years ago, Hindu tradition cast the widow onto the funeral pyre with her husband's burning body, reasoning that without him she had no reason to live. Thankfully that no longer happens, but much of the underlying thinking seems to have endures. Once a wife dons the white sari that denotes her widowhood, she continues to be under the control of her husband's family but faces new challenges alone. "My life is defined/between your corpse and your family's gaze…You have been gone seven years;/I am still expected to be virtuous. I don't want thumb approvals from your family." (44) The poems express a flat anger that simmers beneath the surface, as I picture a woman, small and unremarkable on the outside but large and expansive, full of emotions, interesting and opinionated but overlooked. These poems let her be heard, give her a voice.
The poems deal with teenagers, married off to elderly men: "It wasn't bad enough/I had to kiss an old man's mouth/with no smile or teeth. I never/leapt with delight in your embrace," begins the one titled I'll rise. "Your son reaches between my thighs/to find the treasure he's eyed from when you were alive…Your daughter creeps inside/my wedding collection, her mouth/swells up with curses on seeing my jewels." But the poem ends on a triumphant note: "Like the autumn breeze/I'll indignantly rise, and sing songs of freedom." (40) Another one states: "I didn't know/your every breath was miraculous./That when I lifted your eyelids,/there was no story of our future in them./A breathing heart was a given/like the wetness of June, I believed." In poem after poem, women bear up under unimaginable pressure, face terrible circumstances, and still manage to hold onto themselves.
These are beautiful poems, some reflecting heart-aching loss. "Just so you know, my every kiss was real./I wrapped them in turmeric and sandalwood," (34) reads one. Another begins "Widowhood is trapping me unwillingly./I can hear a white cotton sari weaving at the shop." (2) These showcase the fear and grief that comes with the end of any healthy, loving marriage.
Wet Silence
is a remarkable book, weighty with emotions and images that play across the reader's mind like water. Vikram is a gorgeous writer and her poems will leave you thinking, reflective. She has found an effective and imaginative way to draw attention to the plight of women overlooked by others and undervalued by their society, and has done so in a way that restores their dignity and personhood, and leaves us, the outsiders, drawing breath in outrage or in recognition. Highly recommended.