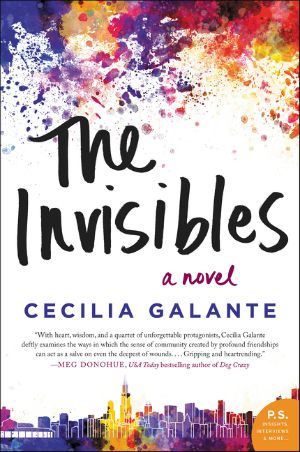 Fifteen years ago, four young women said their goodbyes after spending their adolescent years together in a group home for girls. Their friendship was intense, born out of each girl's need for an emotional connection, and it's clear that their departure came at a time of upheaval, though the specifics are not immediately revealed. When they meet up again all these years later, it doesn't take long for tensions to resurface in The Invisibles by Cecilia Galante.
Of the four girls, Nora is the only one to stay behind and build her life in the same town as their group home. That life, however, is a quiet and humble one that doesn't include many other people. In fact, her only friends are the two older women who run the local library where Nora works and her loyal dog. Having lost contact with her childhood friends, Nora now chooses to keep most people at a distance, including any potential romantic partners. A sense of melancholy hangs over her character, though she would likely describe it as a feeling of contentment with simplicity.
The morning that brings a jolt to her normal routine just happens to be her thirty-second birthday, a fact which Nora didn't realize at first. A phone call from Ozzie, the fearless, rowdy one of her group of teenage friends, informs Nora of the attempted suicide by Grace, another of their group. Grace has asked for a reunion of the four– her, Ozzie, Nora, and Monica. Though they've all gone their separate ways in the years since they lived together, each woman feels compelled to be reunited, and though Grace's suicide attempt is the catalyst, it becomes clear that all of them share a sense of brokenness that has gone unresolved.
I was quickly pulled into the dramatic tone of this novel, with its hints at a deeper, more complex story under the surface of what was immediately presented. The characters were intriguing, each with a challenging personal background that obviously had a long-term effect on each of their adult lives. A sense of abandonment is shared, as each girl was left behind by a parental figure who didn't provide the love and care needed by a child. The name of the novel comes from the name the girls had dubbed their group, the only loving family any of them had ever known. A deep secret isn't officially revealed until close to the end of the novel, but enough context is provided by that point for readers to make astute predictions. Galante has written a novel that is quick to consume and should satisfy fans of both character- and plot-driven stories.