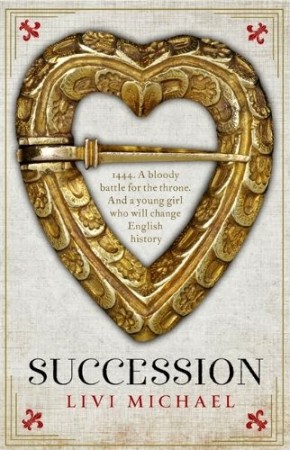 The 15th century was an uneasy time in England. Henry VI was on the throne, and had chosen as his wife Margaret d'Anjou, beautiful certainly but never able to win the hearts of her new subjects. This was in part because the price for her hand included giving up English lands in France, which was hugely controversial. Henry has his own problems, descending into trances and spending hours and hours on his knees rather than dealing with state problems, while under his nose two warring factions vie for supremacy in what is known as the War of the Roses. Margaret strives desperately to advance the cause of their son, while her husband wavers between consciousness and unconsciousness, and rival nobles spread vicious rumours.
Meanwhile the infant Margaret Beaufort has just been granted her father's lands and become a rich heiress, and she will be married twice before her 12th birthday. She gives birth to an infant who will become Henry VII, Henry Tudor, and is known as the mother of the Tudors. We see her as a young girl striving desperately towards womanhood. It's heartbreaking to see how little control she has over her own destiny, how decisions are made for her because of who she is and how she really has no chance to change that. Succession
follows the fortunes of both women, while interweaving in several other stories and points of view.
Author Livi Michael has done something different with this book, which is why I've categorized it under both fiction and non-fiction. Yes she's fleshing out history, adding in emotion and colour and perspective. But each chapter also includes segments from source material of the time, quotes from The Chronicle of London or The Paston Letters
, for example. (Total aside: I read that last one in college. Fascinating!) These segments move things along, or provide different views, or give the local perspective of the time. Michael picks up on that.
I really enjoyed this in depth look at a fascinating period in history, although the amount of blood shed is frustrating because it's so pointless and tragic. Michael does a good job at bringing people to life, adding vivacity and colour to the past while still remaining on point for historical accuracy. It's an unusual book, but I loved the way she combined past and present. Highly recommended.