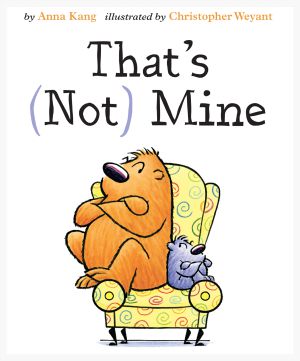 Fresh off last year's Geisel Award win for their book You Are (Not) Small, husband and wife duo Anna Kang and Christopher Weyant are back with a new picture book. (Follow that second link for my thoughts on their book from last year.) In That's (Not) Mine, young readers get another chance to visit with the furry creatures they met last time, and their struggle this time around is one that all children will be able to relate to (and as a result, their parents, too!).
Sharing is that struggle, a universal challenge faced by every child who has ever been in the same space as another. The coveted item in question is that yellow chair with the fun designs, and both fuzzy guys want to occupy it. Their dialogue is simple, but totally representative of young children's declarations, in the vein of "I had it first!" and "But I want it!" On top of that, their attempts to get the chair will also look familiar, from distraction to scuffling. The use of different sized and shaped writing conveys tone and emotion clearly and easily recognizable by even the very young.
Emotions definitely rise, but sometimes resolution comes even without outside intervention, as any parent of more than one child can attest. Sometimes fighting is just a waste of time when there is fun to be had. Just as in their previous picture book, Weyant's illustrations are delightfully fun, and Kang's story presents a life lesson without being overly didactic, allowing readers, whether they be young ones hearing the story read aloud or newly independent readers flying solo, to decide how much they wish to reflect upon the moral of the story.
I do hope Kang and Weyant continue to address such perfectly suited childhood themes with these furry guys in future books!