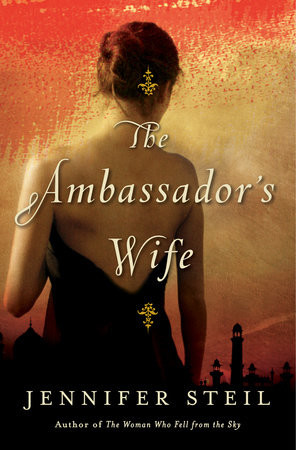 Miranda is a free spirit, an artist who moved to the fictional country of Mazrooq* and established herself in the old city there, making friends and beginning secret art classes with the local women. Although she lived with a lesbian lover initially, after their break up she found herself falling for the young, unconventional, and single (male) British ambassador. When the book opens, the two have a child and Miranda is still getting used to living the life of luxury as an ambassador's wife with an extensive staff and grounds open to her, yet with certain constrictions on her life that are new.
One day, out for a slightly rebellious walk with a group of Western women, Miranda is kidnapped. She is kept alive and isolated for months on end, while her husband and friends search desperately for news. After air strikes target the area next to where she's being held, she ends up keeping a baby girl alive with the milk she still has for her own toddler. She soon comes to realize that once the child is eating solid food, she herself will be expendable. Meanwhile, she searches desperately for a way to escape.
Her husband is dealing with a country edging closer and closer to civil war. Before he and Miranda were married, she did a series of compromising paintings that showcased a local woman–a loyal friend to Miranda, but someone from a very traditional family in a very traditional culture. Miranda has kept the paintings, hidden in the safe room, but she and her husband are not the only ones with a key.
While I didn't love everything about it, overall I really enjoyed The Ambassador's Wife
. Many of the things that bugged me were issues that would bug me in real life, if that makes sense. That is, the characters were real. But honestly, how could she be so stupid? Who would really keep such compromising and damning paintings around in a volatile country where you could be evacuated at any minute? Really??? And why would an ambassador let you do that, even if he's desperately in love with you? My exasperation with Miranda was that which I'd have with a real-life friend, were I to have one who'd make such stupid decisions. I appreciated that, given the questionable choices she makes, Miranda has to live with the consequences, as do those affected by them.
But the book has everything you want–realistic and developing characters whom you care about, exotic location, gripping plot. I've lived in traditional Muslim societies myself and I appreciated that the locals were, overall, portrayed as complex beings with their own reasons for their choices. I highly recommend this book.
*it's very obviously a thinly-veiled reference to Yemen, where the author actually lived. Google "old city of Sanaa, Yemen" and you will imagine the place setting much better and also wish you'd traveled more.