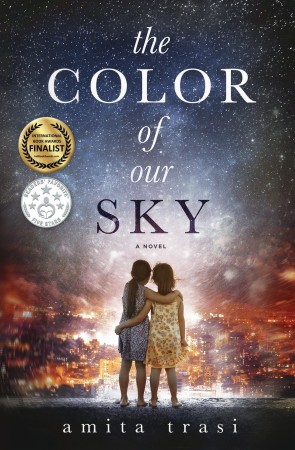 If you're a fan of Khaled Hosseini (The Kite Runner) or Jhumpa Lahiri (The Namesake), you will enjoy The Color of Our Sky as well. The story of the hardships and differences in culture in a country such as India, blended with the immigrant experience in America is a favorite fictional theme for me.
Tara's father is always trying to help those who are less fortunate than he. One day in 1986, he brings home a girl, Mukta, about the same age as Tara. She lives with the family for seven years until she is kidnapped one night. She was born into a family of temple prostitutes, and it was from that fate that Tara's father was saving her. After the violent death of Tara's mother and Mukta's disappearance, he decides they need a change and moves to America.
Eleven years later, he hangs himself. When Tara is going through his files, she finds evidence that he's been using a private investigator to search for her for all these years, even though he had told Tara she was dead. Tara has not found professional or personal success or fulfillment, and decides to return to India to try to answer some of the questions.
The story is told through flashbacks to India and the early years in America, Tara's current experience in India, as well as Mukta's past and present. It is well written and the pacing is wonderful, so it is not at all confusing.
I enjoy novels with a rich setting. Amita Trasi's novel has this and interesting well-developed characters on top of it. There's even some mystery with the search for Mukta, which tied the whole story together. It was readable and enjoyable. If you judge a book by its cover, this beautiful cover will draw you in, and the words within the covers will not disappoint.
There is a reading guide on the author's website to enhance your enjoyment or as an accompaniment to a book club discussion.
At the time of this writing the kindle version is only $2.99.