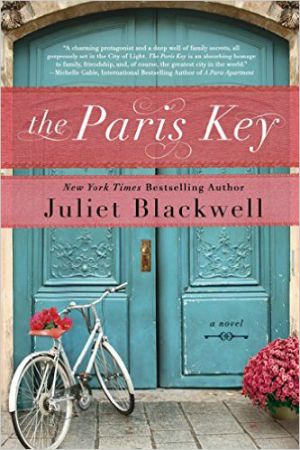 Genevieve Martin may have a French name that no one ever pronounces correctly, but she is an all-American girl. She had spent one summer in Paris as a child, shortly after her mother's death, and her time there remains a beautiful memory. Juliet Blackwell's latest novel The Paris Key sees Genevieve returning to Paris as an adult, again at a time in her life filled with personal challenges. Can one city hold the key to Genevieve finally finding the happiness that seems to have eluded her for so many years?
Right as her marriage is dissolving, Genevieve's dear uncle Dave passes away. Dave was the man who helped Genevieve recover from the loss of her mother, as well as the person to introduce her to the art of being a locksmith. Learning to respect and understand the intricacies of locking mechanisms gave her something concrete to focus on and master while in emotional turmoil as a young teen. Since then, Genevieve has worn around her neck the old rusted key her uncle had given to her, and her free time has been spent fiddling away with lock picking tools and spare locks, a habit that her soon-to-be ex-husband never understood. With Dave's death, his business is in need of a locksmith, and Genevieve heads to Paris to decide if she could run the shop.
The story of an American in Paris couldn't be complete without multiple references to the variety of amazing sights, smells, and tastes of the City of Light, and Blackwell does an incredible job bringing both the traditional tourist hotspots and some lesser known sites of historical importance to life on the page. Genevieve meets an abundance of Parisian characters, some more stereotypical than others, and they help to round out the image of the city and its life.
Interwoven throughout the story is the theme of locks, both literal and figurative, and with the discovery of secrets about her mother's solo trip to Paris the year before Genevieve's birth, so much more is "unlocked" for Genevieve. Learning and accepting her mother's past mistakes helps Genevieve make peace with her own past as she tries to figure out what direction her future is heading in.
From the plot and the very flowery cover image, it's easy to assume that this is light women's fiction, but there was something to this novel that felt slightly more weighty and substantial than what many would refer to as "chick lit." While some of the plot was easy to predict, the language and imagery encouraged thoughtful reading, and I was engrossed for the entire read. Though I've yet to visit Paris, I'm thankful that this novel gave me a glimpse into what I hope to experience from the beautiful city someday.