I received product samples and other promotional items from Krusteaz so that I could enjoy them just like you will be able to if you win!
My kids like baked goods. I like baked goods too, but I'm glad they like them, because otherwise I'd eat them all. What we don't like is dishes. That means that whether it's my daughter wanting to get creative in the kitchen or me fixing a special snack or dessert, if I can make something that doesn't involve a mixer, a couple of bowls, and a lot of utensils, I'm thrilled. Even better, I had the ingredients on hand to make these.
I decided to make the Krusteaz Brown Sugar Oatmeal cookies (as bars — less work — do you see a theme?). How is that for a little evening snack?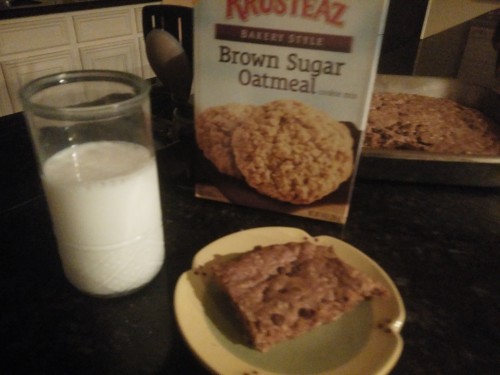 The website has a lot of recipes that you can use with the mixes. I'm going to try the Blueberry Lemon Cream Bars with the Meyer Lemon Bar mix next.
Giveaway
One of you (U.S. only) will win:
New Krusteaz Bakery Style Cookie Mixes including:

Triple Chocolate Chunk
Meyer Lemon
Double Peanut Butter
Brown Sugar Oatmeal
Oatmeal Scotchie
Butter Vanilla Sugar

A Krusteaz lunchbox
Some fun kitchen items like a Krusteaz-branded oven mitt and apron
Follow the instructions below to earn one or more entries.
Check out our current giveaways. Subscribe to our feed. Follow us @5M4Bon Twitter or on Facebook. Pin away with us on Pinterest.