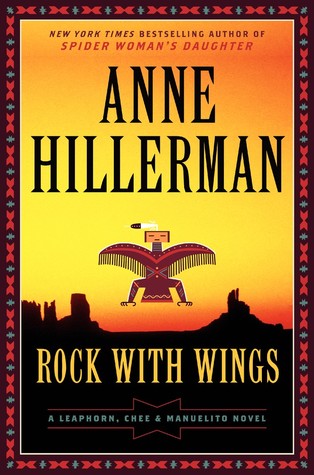 Anne Hillerman continues to take the characters created by her father Tony in his beloved Navajo mysteries and make them her own. This is her second in the series, and she has cleverly kept legendary Lieutenant Joe Leaphorn as a minor character, sidelined by a shot to the head in the first book but still around as a mentor, while moving the spotlight to the young married couple Jim Chee and Bernadette Manuelito, both of whom work as police.
The story opens with Chee taking the opportunity to combine helping a relative with fitting in a small vacation with Bernie, but it's not to be, and circumstances keep the two of them apart and working separate cases for most of the book. Chee's cousin and clan brother, Paul, who's disorganized but likable, is opening a business offering tours of the area around Monument Valley, and offers Chee and Bernie a chance to try it out before he begins to take paying customers. Chee has also been asked to provide security for a filming crew making a zombie movie on Navajo land. But a call from the neighbour of Bernie's mother, a widow with health issues, sends Bernie home to take care of her family, which includes her younger sister, struggling to find her way and avoid the trap of easy alcoholism. This proves to be a bit of a test for their marriage, as they continue their separate work while apart, while both wondering how much the other misses them.
Meanwhile, Bernie follows up on a traffic stop with a very nervous white man whose trunk only contains boxes of sand, looks into a burned-out car near an old man living alone and begins to make sure he's cared for, and continues to try to convince her sister onto the straight and narrow.
One thing that Anne Hillerman is doing as well as her father is continuing to make you feel you've traveled to another culture. I really enjoy watching Bernie's interactions with her mother and with the older man living alone in this book, full of respect and certain ritual greetings and salutations, showing us the Navajo love for the land and their place in it.
However, I felt that the plot of Rock with Wings
was much weaker than that of her first, Spider Woman's Daughter. I expected Bernie and Chee's disparate cases to align somehow, to come together in a breath-taking whole, and instead each was solved on its own. The book was an enjoyable read, with likable characters in a clearly-defined landscape that makes you picture it, but the mystery itself was very thin. That's okay though. Every book in a series can't be excellent, and I look forward to continuing to see what Ms Hillerman will do with her characters in the future.