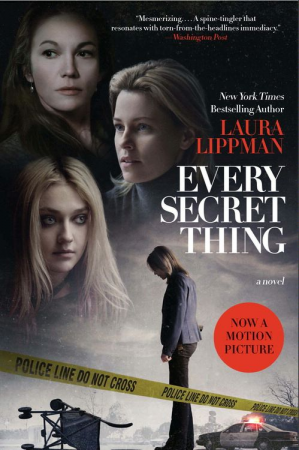 Laura Lippman is the master of creepy, and Every Secret Thing opens with a scene that leaves you breathless with how normal and every day things are while at the same time hinting of unimaginable horror. Two girls are sent home early from a poolside birthday party, banished because of bad behaviour. On their way home, they find an unattended baby carriage with a baby in it, and they decide it's their job to protect her so they take her. And there the scene stops, opening again seven years later when the girls, now 18, are being released from juvenile detention, where they were sent for manslaughter, to make their way as best they can in the world. But soon, other little girls begin to go missing. Initially they turn up unharmed but in strange places, but one day a toddler is kidnapped from a shopping mall.
Alice and Ronnie were two very different little girls. Alice was the only child of a single mother, Helen, a well-educated woman whose life skewed irredeemably off course with the unplanned pregnancy. Alice is prim, loves school supplies, longs for summer to be over. Ronnie comes from rougher stock; her father's known for bringing home his delivery truck fuller than it went out, and her mother works too, so Ronnie and her brothers are basically raising themselves as best they can. The two aren't exactly friends but neighborhood proximity throws them together in the summer, and since they arrived together at the party, they are sent home together. Now their lives are inextricably linked by the choices they make on that fateful walk home.
Seven years later, however, they return to a world which has moved on and find it hard to fit themselves back in. There are various women who would like to control them: Alice's mother, disturbed to find her daughter grossly overweight; Alice's attorney, who believed she could save her; the mother of the murdered child, convinced that Alice and Ronnie are not only behind the missing toddlers but that she was specifically targeted the first time, and that the two are coming for her second child. There are newspaper reporters trying to make it big and a detective, Nancy Porter, Polish and self-conscious about it, trying to prove herself in a male-dominated profession.
I love Laura Lippman and think she's an excellent writer, but I found Every Secret Thing
slightly disappointing. The villain is suitably crazy (no I'm not telling you who turns out to be primarily responsible) and unexpected, the kidnappings are creepy, the clues are doled out at just the right pace and keep you guessing. But the ending somehow felt a little flat. It's a good summer read and worth your time, but it doesn't stand up to several of her other novels. It was published in 2003 and turned into a movie this year starring Elizabeth Banks, Dakota Fanning, and Diane Lane, and I do want to see it, so that should tell you something.