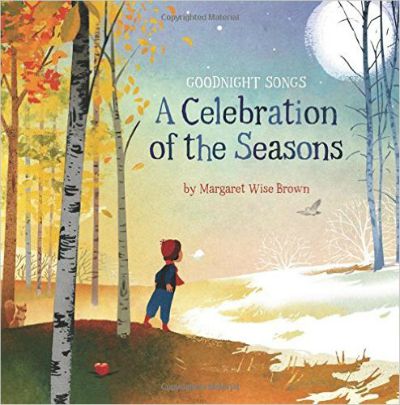 Beloved children's author Margaret Wise Brown has brought so much delight to kids and the adults who enjoy reading with them. Is there a new parent around who hasn't memorized Goodnight Moon? Last year, the release of previously unpublished poems put to beautiful lullaby music in Goodnight Songs (linked to my review) gave parents an opportunity to share Brown's lovely way with words in musical form with their littlest ones. An additional twelve poems are matched with gorgeous illustrations in the new follow-up, Goodnight Songs: A Celebration of the Seasons.
Brown's appreciation for the natural world shines through in these poems, and she manages, as always, to describe the world around her in a way that reaches young children perfectly. In "Fall of the Year," one of only two poems in this collection that had been previously published, simple observations about the changing of the season become magical in Brown's hands, and when read slowly and quietly, the hush of the newly brisk air is conjured up.
"Quiet in the Wilderness" describes natural sounds that will encourage children to open their ears when out in the woods, for the quiet is often interrupted by noises all around. The blue-toned illustrations for this poem are expertly created by Dadu Shin, softly bringing a forest by the sea to life. In a very different style, Bob Staake's illustrations for "The Kitten's Dream" fit perfectly, for his signature whimsy and vibrant palette of many colors transform the pages into a wild dream world.
I quite like the contrasting illustrative styles, which help to support each poem's own unique feel. But don't forget that Brown loved to put poems to music, and each of the twelve poems have been given that treatment here. I don't know much about the technicalities of music, but there is a lovely note from the musicians in the back of the book that help to explain how they used particular instruments to bring out specific emotions in the songs– a "joyful" harmonica to give a happy sense in one, a slow tempo and the use of pedal steel to give a feeling of melancholy in another. This combination of Brown's words, various renowned children's book illustrators' visual work, and musical accompaniment work in perfect harmony together to make a beautiful– in all senses– book for any child's library.