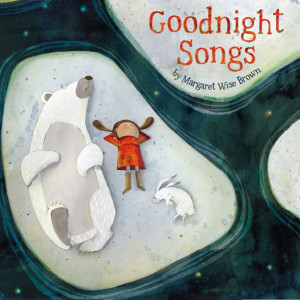 The name Margaret Wise Brown likely brings up images of the "great green room" in most parents' minds, but some may not know that Brown authored over 100 books under both her own name and various pen names. In addition, at the time of her sudden death at only 42 years years old, she left behind over 70 unpublished manuscripts. Near the end of her life, Brown had become focused on writing music for children, in the same "here and now" style that she had pioneered in the world of children's literature. The new collection Goodnight Songs features twelve of her poems (only three of which were previously published) put to beautiful, lullaby music, and brought to life in an array of inviting pictures by award-winning picture book artists, including some of my personal favorites: Jonathan Bean, Sophie Blackall, Renata Liwska, and Dan Yaccarino.
Whether you read the poems or follow along as you listen to the included CD, there is delight to be had in Brown's creations. In the opening song, "The Noon Balloon," just the right amount of whimsy is present with a unique group of animals. "Sleep Like a Rabbit" encourages children's imaginations as it lulls them to sleep at the same time. In all the songs, Margaret Wise Brown's understanding of the way young children see the world is evident, and she brings joy to all the poems. Each of the twelve illustrators graces the poems with his or her own unique style, making for a different kind of surprise with every page turn.
Check out Sterling Children's Books' site for Goodnight Songs, where you can hear Amy Gary, Editor of the Margaret Wise Brown Estate, talk about the experience of going through Brown's trunk of stories and poems, along with interviews with the individual illustrators who worked on this wonderful book.
Win a copy!
Do you want to add this musical treasure to your child's goodnight routine? Enter to win a copy using the widget below. Giveaway open to U.S. residents only.
Check out our current giveaways. Subscribe to our feed. Follow us @5M4B on Twitter or on Facebook.