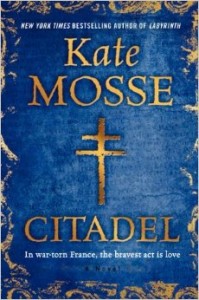 In the opening pages of Kate Mosse's Citadel
, Sandrine Vidal is 18, just out of school, and pretty clueless as to what's going on behind the scenes in her beloved town of Carcassonne in the Languedoc region of Southern France. It's 1942 and France has fallen, the Vichy government is busy collaborating with the Nazis, and things are beginning to heat up. Sandrine is just wanting to get out of the house, away from memories of her father and the not-always welcome ministrations of their housekeeper. She goes for a bike ride by the river, sees a drowning man, and goes to help. To no one's surprise, this simple act of kindness is going to have repercussions far beyond her wildest dreams.
Citadel
tells the story of a cell of the Resistance composed almost entirely of women, but what makes it more than simply a war story is that it tells how these women came to be involved in the first place. What would lead young women with lives and careers before them to choose to set bombs, blow up trains, risk their lives to fight for freedom? Sandrine is a compelling character, as are her sister and friends, in particular Lucie, the beautiful young woman who grows from self-absorbed to sacrificial young mother in the course of the story.
On top of that is this sort of Raiders of the Lost Ark bit–a mysterious Codex, supposedly considered heretical by the 3rd-century bishop and squirreled away for safe-keeping by a young monk. Now the Nazis are after it–they think it will help their cause–and there's a mysterious older man after it too. I think we're supposed to believe he's 800 years old? It never makes it completely clear. Regardless, I loved this bit of fantasy tacked into historical fiction, and it made the action all the more gripping. If the Codex can be found and read, then mysterious help will come to rid the land of evil.
This book is nearly perfect. I have to admit there's one little thing that bothers me about the ending–not what happens to the characters, but the way it is or isn't made known. I don't think that's too much of a spoiler. I loved this book and have been recommending it to everyone I know. Sure it's a bit of a commitment at over 650 pages, but once you get started, the length becomes an asset. The characters are endearing and true-to-life, the action is non-stop, and it's simply a fantastic read. Highly, highly recommended.
(On top of that, it's the third in a trilogy. Squee! I can't wait to get my hands on the first two! There was one bit in the epilogue that made no sense to me, but I decided the character who suddenly appeared must be from the other books. You don't need to have read the other two to thoroughly enjoy this one, as this review makes clear.)