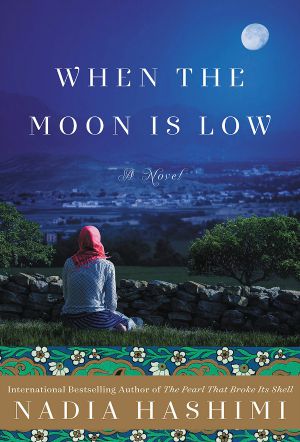 You know how when you read a review and the writer tells you to go right now and get this book and you roll your eyes because she doesn't know your life and maybe you wouldn't really like it? This isn't like that at all. Go now and get this book! And I don't even care if you like it or not–it's a book that you should read.
When the Moon Is Low
follows the story of Fereiba and her family. Fereiba's mother died when she was born and she has always missed her; her father's second wife provided him with several more children, all of whom stole her love and attention so that little was left for Fereiba. She was initially denied an education, but when she at last persuaded her parents to send her to school, she worked hard and caught up quickly with her classmates. Finally, her initial offer of marriage is given instead to her sister, but Fereiba ends up married to a man whom she deeply loves and respects.
Into her life which is at last filled with contentment and purpose come the Taliban, and she and her husband, an engineer, watch in dismay as their city is turned into a place of bombings, mistrust, and oppression. When they are specifically targeted, they know they have to leave and make plans to join Fereiba's sister in London. Fereiba ends up beginning the long and dangerous journey across the world with her three children, one of whom is only a few months old. Her nightmare comes true when she and her teenage son, Saleem, are separated in Athens, and must begin to find their own ways across the continent of Europe.
The topic of migrants is very much in the news these days. Stories of people drowning in the Mediterranean, trying to get through the tunnel in Calais, leaping barriers from Morocco to the Spanish-owned town of Ceuta, being turned away from country after country. Desperate people taking desperate measures just hoping to survive. It's easy to assume they are somehow to blame for their woes (after all, if they'd just had the good sense that we had, to be born in the West) or that their plight is someone else's responsibility. But Fereiba and her family put a very human face on this situation. It's heart-breaking to watch Saleem, so young and trying so hard to be responsible for his mother and younger siblings, working fourteen backbreaking hours picking tomatoes for whatever small wages the farmer deigns to give him. It's terrifying when he's separated from them and deported back several stages of their journey. Fereiba's fear and the complete vulnerability of the small family left me on the edge of my seat.
This is not a book about victims, although things happen that will make you furious, or perhaps cry. (Or both.) This is a book about people taking what circumstances they are in and doing what it takes to survive, hoping and praying that they will at last be able to thrive.
Author Nadia Hashimi has a knack for creating believable characters who are strong even in adversity and who are immensely likeable as well. Although this is a timely novel, When the Moon is Low is not a diatribe on immigration or a treatise on how to handle refugees. Instead, it's a story of a family, a woman and her son, who experience hard times but who also know love, and joy, and who long for peace–rather like all of us. I can't recommend this book highly enough. I want you to read it.