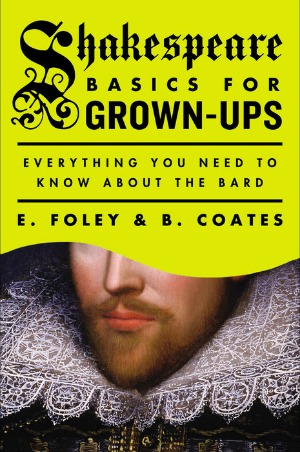 It's been many years since I last read a Shakespeare play, but I remember a bit about several from back in high school. As my oldest child, now high school aged, has had to study various plays and sonnets in recent years, I've been reintroduced to Shakespeare's work, and I have to agree with my son when he says that sometimes… Shakespeare can be crazy confusing. But, I do believe, as I've told him again and again, that it's totally worth the effort to work your way through. And if you need a little assistance, you should check out Shakespeare Basics for Grown-Ups: Everything You Need to Know About the Bard by E. Foley and B. Coates.
Part history book, part biography, and part synopses, this book offers readers tons of information, helpful for studying specific works as well as simply entertaining. Each of Shakespeare's plays is summarized in one sentence, which is probably more entertaining than truly informative, so in addition, each play has a longer and more specific summary, including thematic discussions and comparisons. But don't let that sound boring and dry, because the authors bring a playful tone to much of the book. Not only do you get an immediate sense that they are incredibly well-informed, but it's also obvious that they truly love to share that knowledge.
Since we all know that "brevity is the soul of wit," let me give you a brief idea of some highlights of this cool book:
biographical information about William Shakespeare (along with the theories that the plays were not written by the WS history has known!)
historical tidbits about life in the time of WS
definitions and contexts for much of the language and phrases that confound high school students (and their parents, too, perhaps)
a list of words and phrases that are so familiar to English-language speakers that were initially introduced by WS (believed to be about 1,700 words and phrases!)
analyses of some of WS's most well-known characters, with a special discussion about the various roles of women in his plays
thorough summaries of each of his works- the comedies, histories, tragedies, and poems
descriptions of several famous and successful Shakespearean actors throughout history through contemporary times
closing with a 60 question multiple choice quiz for the most ambitious and dedicated readers!
Okay, so I have to admit that I didn't read this book from beginning to end, as I didn't read many of the full-length summaries, but I totally devoured all the other parts. (As a result, my quiz score isn't that fabulous since there are many histories and tragedies that I've never read!) I was most impressed with the sections on the language of Shakespeare, showing his incredible impact on the way we speak today, almost 400 years after his death. I know that I'll be keeping this book on hand as my son continues in his high school literature studies, and I would highly recommend it to anyone with even the slightest interest in Shakespeare's life and times.