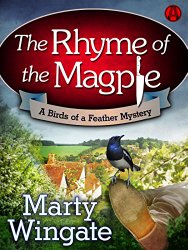 Julia Lanchester, "Jools" to her nearest and dearest, is desperate for a new start. She's cut about a foot off her blonde hair, for a start, and moved…well not too far away, but to a new town and a new flat and a new job as manager of tourism for a tiny village that's part of the estate of the Earl of Fotheringay. However, since she hasn't changed her name, everyone still knows she's the daughter of Rupert Lanchester, famous scientist who's made the study of birds accessible to children through his widely-popular show on the BBC, which she used to produce. She's not been speaking to her father since he married her mother's best friend a short 6 months after the sudden death of her mother, and she's miserable.
When her father attempts to visit her, she rebuffs him. But he was obviously concerned about something, and when the next day her stepmother rings to say he's gone missing, Julia's forced to come to terms with the fact that something has happened. When her replacement–Rupert's new assistant, Michael–shows up, she takes him out to the family cottage at Marshy End. There, the two of them make a grisly discovery. Rupert's had a very public disagreement with a company who plans to build a wind farm in the middle of a delicate ecosystem and nesting grounds, and now one of them has been murdered. Naturally Rupert is a suspect. On top of that, Rupert's been receiving threatening letters, and there are several disgruntled nature lovers who want to take over the show. But do they want it enough to kill? And who has edited a video of a press conference to make it look as if Rupert was being extra confrontational and threatening himself?
Meanwhile, Julia and Michael are getting to know each other better and better, but there's something about Michael that Julia just can't put her finger on. He won't tell her much about his past at all, and she's not completely sure how much she can trust him. She has a bit of a history with running from relationships at the first sign of trouble, as her sister points out. Is he going to be worth any kind of investment, or is his persona false?
The Rhyme of the Magpie
is a light but interesting read. Although it could be classed as a cozy mystery, it is better than many of the genre, providing realistic characters with a bit of depth to them. Julia comes to terms with the fact that her parents are adults too, and learns to accept their imperfections and to look at their relationship with each other and their peers with new eyes. The book is built around the nursery rhyme about magpies, which is suitable as Rupert and Julia both love birds, and there's a fun underlying theme as if the rhyme were true–if you see one magpie, it means sorrow (right before they find the body), and the sight of four is "proof" that Julia's sister is pregnant and that it's a boy. (Here's the poem in case you don't know it)