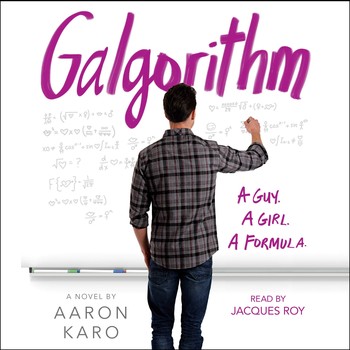 Galgorithm is a fun, light YA novel by Aaron Karo. I really enjoy YA offerings from the male point of view, and this one was no exception.
Shane is a senior who has a lot of head knowledge that helps shy or slightly nerdy guys go after girls they like. He teaches them a formula (see more in the video below), but what he really helps them to do is to believe in themselves. The problem is that head knowledge is not something he uses on himself. Ever since she-who-must-not-be-named broke up with him years before (and yes, he calls her Voldemort), he hasn't been willing to try again.
He's definitely the cocky invincible type, he is also likable, because he does seem to genuinely care. When one of his success cases tries to set him up, he actually goes through with it.
His relationship with his best friend Jak (a nickname, her initials) is an interesting part of the book as well. They've known each other since they were babies, and while it's a tale as old as time (Could they ever be more than just friends?), it's unique in its own way.
The characters sing. It's funny and sweet, but not too sweet.
Comedian Aaron Karo shares tips from his novel, 'Galgorithm', on how to charm the special person in your life. 'Galgorithm' is a romantic comedy about high school, heartbreak, and having all the answers. Check out his fun video.
This is a book for older high schoolers, in my opinion. There is some mild swearing, some drinking, and making out.
NOTES ON THE AUDIOBOOK
It's hard to get the middle grade or young adult voice right, not the writing voice, but the speaking voice. Some are able to pull this off (I think it's a bit easier to fake a girl's voice), and if so, it makes the audiobook even better. Reader Jacques Roy doesn't quite pull this off. I didn't really believe it was Shane's voice. That said, he conveyed the attitude of this type of 18-year-old boy and his narration was easy and enjoyable to listen to.
Listen to an excerpt at the Simon & Schuster Audio page.