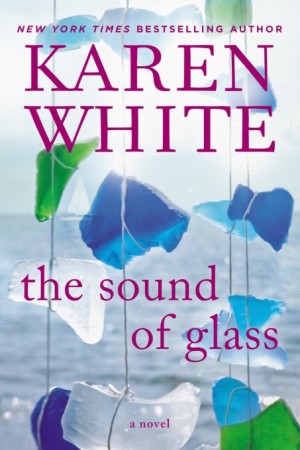 I've reviewed several of Karen White's novels during my time here at 5 Minutes for Books (click through to read reviews for A Long Time Gone, The Time Between, After the Rain, Sea Change, and Falling Home one reviewed by Jennifer), and I've enjoyed her novels about women set in the US south. There's often a theme of finding home, either returning after a long absence or a move precipitated by a life-changing event. This theme is present in her latest book, The Sound of Glass, which also tackles domestic abuse.
Merritt Heyward has just learned that she has inherited the family home of her husband, Cal, who was killed while fighting a fire 2 years earlier, and with no ties left to her childhood home in Maine, she decides to pull up stakes and move into the Beaufort, SC property. Merritt is surprised to learn that Cal had a younger brother, and receives another shock when her step-mother Loralee and her 10 year old son turn up on her doorstep. Merritt resents Loralee, only 5 years her elder, for taking away her father, and has never felt the need to get to know her half-brother, but she can't turn them away.
Merritt agrees to let Loralee and Owen stay for a week, but it's clear Loralee has no intentions of leaving. Loralee's constant sniping at Merritt about her drab clothing and lack of makeup get on Merritt's nerves, as do her need to quote her Mama's advice about everything. Merritt also has to deal with Gibbes, Cal's younger brother, who is determined to break through Merritt's shell and help her get over her fear of water, caused by the car accident that killed her mother when she was a child.
Intertwined with Merritt and Loralee's story is that of Edith Heyward, Cal and Gibbes' grandmother, and a plane crash whose detritus fell onto the land and marshes of Beaufort back in 1955. Edith's husband, Calhoun, is killed when his car hits a tree, most likely distracted by the falling debris, and she is far from saddened by his death, as she is now free from his abuse. But a suitcase that falls onto her yard involves Edith in the cause of the plane crash in ways she never expected.
We follow Edith throughout the years, as she raises her son CJ and then grandsons, and watches the pattern of abuse continue with the boys and their wives/girlfriends. Her only hope is Gibbes, born 10 years after Cal, and with his mother's disposition.
While parts of The Sound of Glass are a bit predictable — the reason Loralee wants Merritt and Owen to get to know each other is easy to figure out as hints are dropped throughout the story, and Merritt's growth throughout is as expected — the plane crash's cause and its connection to Merritt's family is unexpected, as is what Merritt and Gibbes find in the locked attic.
The story lags in places and the characters are a bit hard to swallow — Owen is a perfect child, Loralee's constant platitudes grate the reader as well as Merritt — but I was taken in by the mystery of the plane crash and how everything was going to come together at the end. I also enjoyed the southern setting and Merritt's culture shock as her uptight New England ways loosen up.