When I was a tween I first began to love poetry, and the kind I loved tended to be dramatic and emotional and tell stories, mostly of love and loss. I still remember the first time I read The Highwayman in which the landlord's black-eyed daughter, Bess the landlord's daughter, kills herself to warn her love that the King's men are waiting to capture him. This spoke to me when I was 12 and longing for romance, which was sadly lacking in my life and seemed unlikely to come from the boys I knew at school, who mostly tended to punch each other and laugh nervously when Beauty passed before them like a dream. No, I wanted real men like Lancelot, who was admittedly rather clueless about The Lady of Shalott who also died for love of him. I retained a practical side, of course (these were also the years I started reading P.G. Wodehouse), but I've never forgotten how these poems seemed to speak to my soul.
There were lots of other poems, of course. I loved Edna St Vincent Millay and Tenneyson and Wordsworth, among others. Now, grown to adulthood, I prefer my poems darker, sparser; TS Eliot or Wendell Berry or Sharon Olds. But I'll always have a soft spot for the lush melodramatic yearnings of my youth (aside: I think the modern version of this is the Twilight series. Do you agree? All those chaste yearnings! Discuss in comments).
Oxford University Press is answering the need of the youth of today to wallow in an enjoyable sort of misery with 3 new versions of classic poems, each presented on its own with illustrations by Charles Keeping. They have two of my favorites, The Lady of Shallott and The Highwayman, plus Beowulf, which I read and appreciated in junior high but whose romance was of a different sort than that for which I longed–the romance of battle, of victory, of honor thirsted for and shame vanquished.
These are lovely books and I was thrilled to learn of their existence. I wish more people today read poems, and I've been generally appalled at what's assigned in high schools if you're not taking advanced classes. These stories are applicable to all times and they're very accessible.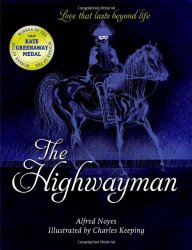 Alfred Noyes' The Highwayman
tell the timeless tale of a highwayman who loved the innkeeper's black-eyed daughter, and the plan they make to meet which is thwarted by the ugly stableman who is jealous of Bess' love. He tells of their plan, the King's men come to capture the highwayman, there is death and sorrow, and then a ghostly ending. It's perfect for youngsters! I actually do mean that. It's dramatic and romantic and there's something for everyone–love! jealousy! being shot down like a dog on the highway! Plus there's that excellent opening and close…and still of a winter's night, they say, when the wind is in the trees/and the moon is a ghostly galleon tossed upon cloudy seas/when the road is a ribbon of moonlight over the purple moor/a highwayman comes riding, riding, riding/A highwayman comes riding, up to the old inn-door. You can just hear the hoof beats and a shiver runs down your spine.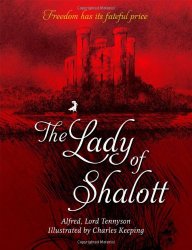 Tenneyson has fallen into disfavor in our generation, and I can see why–his rhymes seem facile and even juvenile sometimes, and of course he is so very Victorian and we are so very Not. But I still think he's terrific for introducing children to poetry. Those rhymes go easily into the memory, and his Arthurian tales are enchanting. The Lady Of Shalott
, of course, tells the tale of the mysterious Lady who lives in a tower and can only view the world for a mirror. When Lancelot rides by, she gives in to temptation and looks out the window, thereby loosing a curse upon herself that leads to her death. The poem is atmospheric and lovely, and speaks to the loneliness experienced by every 12 year old girl. (I'm really not trying to pick on that age, but don't you remember how strong all the Feelings were? And how little that had to do with how well things were going in your actual life?) Beautifully done.
Beowulf
offers a glimpse into a world of Nordic battle that will appeal to all the Avengers fans, and of course Tolkein. This is a fascinating tale of other-worldly monsters, battle-hardened warriors who thirst for glory, and the concept of honor won through war. In real life, I'm basically a pacifist, but I get the beauty of the concept, especially since it's expressed in poetry from Homer onwards. Beowulf, with its defense of home and brother/family/community against monster, is practically protest-proof. Plus, it's a great introduction to Angl0-Saxon use of kennings, which is when two words are hyphenated to give a poetic name to a single noun. Probably the best-known example of this is from Beowulf, when the sea is called the "whale-road" and the "gull's-path." Blood is referred to as "battle-sweat" or the sun as a "sky-candle." I love kennings and think we should use them as much as possible in modern English. (Or maybe not, unless you can come up with things that work as well for our culture today as theirs did.) This version uses Kevin Crossley's interpretation and retelling of the original Anglo-Saxon epic, and the illustrations are wonderful–really capturing the feel of the poem.
All 3 books are illustrated by the renowned Charles Keeping, who won the Kate Greenaway Medal. In order to capture every detail of the original artwork, the drawings were all rescanned.
Any or all of these would make fantastic additions to your own library or lovely gifts.