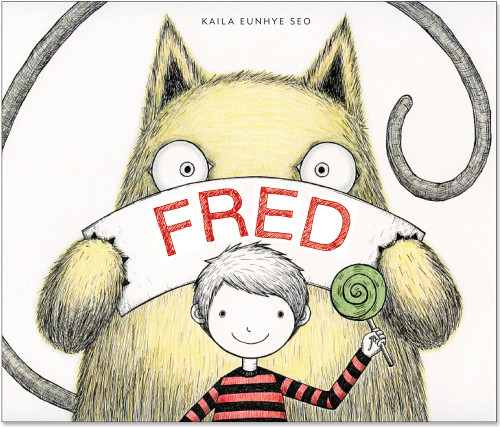 The magic of childhood is quietly celebrated in the new picture book Fred by Kaila Eunhye Seo. The title character, adorned in a red and black striped shirt, stands out against the black and white background of his small town. That bright patch of color on Fred is only matched by the colorful, and in no way menacing, monsters that only Fred can see. His imagination, and the joy that it creates, bring this lovely story to life.
That imagination allows Fred "to see and believe in things… that others could not." The more he looks, the more he sees, with these shaggy, smiling, oddly adorable creatures all over town. Rather than spreading mischief or fear, these monsters help by altering the environment to provide shade for lounging folks or to keep the breeze from hitting branches into children walking by. In fact, Fred finds wonderful friends in the monsters, playing with them and feeling loved and accepted by the entire crew.
But things change when Fred gets old enough to go to school. As Fred begins to make new friends and grow older, the monsters start to fade and disappear, until one day he doesn't see them at all. In fact, he gets to a point when he doesn't even remember them. First as a gangly teen, and then as a young adult (but always clad in some version of his red and black striped shirt!), Fred continues on with his life, doing the things expected of him at each stage. Some of that in his adult life is kind of sad… and perhaps somewhat familiar to adults reading this with their children. Fred's visit to his childhood park brings a touch of that magic back into his life, at the hands of another child, of course.
There's something quite mature about the tone and feel of this story, it seems to me, though that could be my own wistful grown-up voice speaking. I can say with confidence that this book has been a hit with the children in my life who have read it. My seven year old son picked it up and read it on his own, quite slowly, lingering on each page for a bit. He came to me after finishing it, saying that he quite enjoyed it, because "the boy could finally see the monsters again and he was happy, and that made me happy, too." Could there be a better endorsement?
Seo's pen and ink illustrations have fantastic texture and convey warmth, with color used purposefully to infuse spirit in the characters. The creatures themselves ooze joy and friendliness, and their designs are seriously creative and just plain fun to look at. Watching a child spend time truly looking at the illustrations in a picture book brings me great happiness, and I've watched both of my children and one of their friends do just that on separate occasions, each time initiated because I left the book laying around and the cover totally drew them in. Amazingly, this is Seo's picture book debut!
Fred's publisher, Peter Pauper Press, is happy to be hosting a Mega Fred Friday Giveaway from May 1st to May 29th, giving away ten of their wonderful picture books. You can even enter right here. Good luck!
a Rafflecopter giveaway